On the guestlist: Making season 1 of the Tickets podcast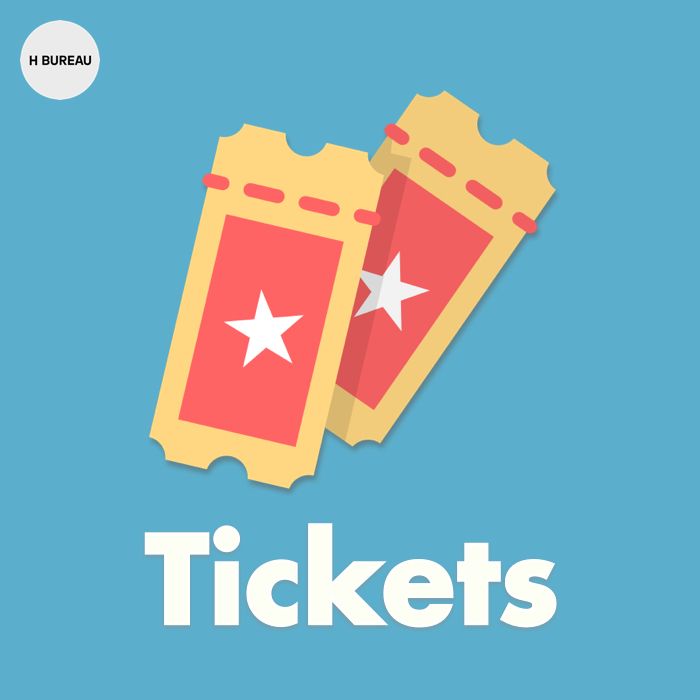 A few weeks ago I received an email from someone telling me they'd just finished the whole season of the Tickets podcast.
There's a mix of gratitude, pride, and slight trepidation in knowing someone has invested their time into something you've designed and created.
In this case, it involved 10+ hours of their time and a closeness and intimacy to the work that the direct voice of podcasting is rare in providing.
Having done a lot of live events and consulting work of late it also reminded me of the value of creating something that is able to live forever. It's out there, anyone can access it, and it'll stay out there, available, until I decide I no longer want that to be the case.
That's empowering, and a little scary too.
This post is a summary of the 16 episodes of the podcast series I started in New York in the long Winter of 2017/18.
It's the first piece of work I've done like this, and I learned a lot [1].
The intention of this post is to provide some insight into the guests and how they ended up appearing on the show, and hopefully give those with a desire to take own their own podcast a little nudge towards making it happen.
Some of the guests came about via my network, but a surprising number were from cold emails I sent after seeing their work online.
Warning: This is a long post (nearly 4000 words).
For more on podcasting, the media & entertainment world, and building ventures and careers, check out my monthly newsletter.
---
Before Tickets
Back in London in early 2017 I met a very interesting lawyer. He'd worked in a big firm and now ran his own practice specialising in IP in sports, media and entertainment.
We worked on a project together, and alongside that had some really interesting conversations on the future sports, music, brands, and the legal industry.
In one of those conversations, we compared notes on how a deal at an arena for a boxing match differed to that of a live music event. We realized both parties had a knowledge gap and that there was plenty of learning opportunities to be had for the savvy promoter, manager or agent – on either side of the fence.
Aside from being fascinated by the world he operated in as a sports, media and IP lawyer, I had a sense there was value in sharing parts of that conversation we'd had. Surely there must be plenty of other people who'd benefit from that cross-sector insight?
And so, like many good ideas… nothing happened. For a few months at least.
Fast forward to late November 2017 and I'm on a flight to Lexington, Kentucky with my wife. I can't remember exactly what triggered it, but as we zipped across the west side of New Jersey we got chatting about this lawyer and that specific conversation I had with him. Almost as soon as I started to explain how interesting these white spaces between areas of live events was, she said 'you should turn it into a podcast'.
A few days later back in NYC and Tickets was born; a quick logo I knocked up in Sketch, a check to see whether I still had that free audio recording software on my laptop, and a two-line email to that lawyer. He replied, and I was in for the ride.
---
01: Adam Morallee, Brandsmiths
That lawyer's name was Adam Morallee, and he became the guest for episode one.
Episode one was indeed the first episode I recorded, and I had no equipment other than a laptop and Skype. While I had done interviews and panel hosting before, a podcast format (and over the phone rather than in-person) was completely new to me.
One thing I had on my side was confidence in Adam being a great guest. He didn't disappoint – we talked about Transatlantic pay-per-view, values-based influencers, what goes into being a manager, the rise of female Muslim boxers, and a whole lot more.
It's still one of my favorite episodes.
02: Debs Armstrong, Strong & Co
It was all well and good having a chat with Adam, but a podcast couldn't really be just one episode. I needed more guests.
I made a list of people I knew who were in around this live experiences area I was exploring and near the top was Debs Armstrong. I'd met Debs at an event run by my good friend Victoria at Interchange in London – I was the moderator for a panel on the future of live experiences featuring Debs' company Strong & Co., Boiler Room, and Seedcamp. Debs was great fun, had strong opinions, and created some incredible work for brands and festivals. Just what I was looking for.
I still had no proper recording equipment, and during my research on how to make a decent podcast, I stumbled upon a software product called Cast. It was a sleek looking web-based platform, which had a great feel but turned out was a nightmare to edit with. (go here for more on my production and editing process)
The episode ended up getting chopped down a bit because of the edit issues, but I loved Debs' opinions on where brands went wrong on doing experiential, and her tales of London's early 90s rave scene (lots of weird and wonderful things came out of that era).
03: Andre Lorenceau, LifeLike
My email to Andre was the first cold call I sent out for the podcast.
I'd heard about LifeLike a few months previously via a piece in TechCrunch and what they were doing looked interesting – combining technology, sports, and live streaming.
I was reminded of them in early December when I received a job digest email that indicated they were hiring for product managers. While I was fairly set on doing my own thing, I was still keeping my eye open for interesting job opportunities.
Perhaps I could combine a podcast interview with an informal exploration about working together… it is New York after all.
I was nervous for this one – Andre was CEO of a rapidly growing VC-backed business and my only two interviews so far had been with people from the UK I knew fairly well.
It turned out well – his passion and deep understanding of the subject matter shone through, making my job much easier. And we got along well – he even invited me to their team's Friday afternoon beer and gaming session.
04: Vincent Marini, BASE Entertainment
I discovered Vincent's company BASE Entertainment via the press release for Roy Orbison hologram tour that was announced in early 2018.
It looked like they did a bunch of interesting theatre projects and I'd long been fascinated with how that side of the live entertainment business worked.
I sent him a cold email not expecting much (I had 1 episode live at this stage). To my surprise, two weeks later I found myself there in his office ready to record.
Vincent was the first guest where I felt noticeably out of my comfort zone. I didn't know that much at all theatre but despite my preparations I knew I could still end up looking clueless.
As it turned out, he gave one of the best interviews of the season, and despite me asking him a couple of dud questions he worked with them without complaint and came back with thoughtful, deep and expansive answers. Just like a good producer/director I suppose.
I especially loved Vincent's tales of working in South East Asia and China in particular – a reminder that entertainment can transcend geography, culture and a whole lot of other barriers.
His incisiveness and clear passion for the subject matter also forced me to up my game – something I gamely tried to do as I battled a horrible cold (see below).
04: Michelle Grey-Campion, The New York Times
An hour after I left Vincent, I went to the New York Times to record the second of two episodes that day (not recommended), and whilst battling a pretty bad head cold (definitely not recommended).
Speaking of colds, this was another cold email. I'd done some digging on LinkedIn for people in this area and discovered Michelle. Her background and experience looked the perfect fit; using the Voila Norbert tool I got a hold of her email address and pinged her a few lines on what I was up to. To my delight, I got a reply a couple of days later, and I'd snared my first big brand name company on the podcast.
One of the things I loved about speaking with Michelle was her candor. As with many Aussies, she's got a natural ability to hold conversation and tell stories, and that combined with her honesty about her area of work made for a really energetic and engaging conversation on building community, working with talent, and career transitions.
06: Ross Guttler, Delos Living
I met Ross through Alma Lacour, a talent agent at Bernstein & Andriulli and co-founder of women's group Anthony & Stanton.
I first met Alma through a gathering our friend Michelle at Swan Feather organised before I moved to NYC. I was in town for a few days, having just started out on my own again, and Michelle invited a bunch of people to spend a couple of hours with me to jam on ideas (which was very generous of all of them). We kept in touch, and Alma also became a mentor on the AMP NYC program I was involved in (unsurprisingly she was a big hit).
After the first couple of episodes were out in public, I asked Alma for her ideas for guests. I expected maybe a connection to a festival promoter or artist, but she came back with two wonderful curveballs: a boutique architecture firm with a twist, and a company working on making spaces more sustainable and healthy.
The latter was Delos, and I met Ross at their beautiful office in the Meatpacking District. We got along famously, and the episode wove Ross's passion for science and wellbeing with our shared love of music and live experiences.
I also learned a lot from this one – there's so much we don't think about when it comes to the spaces we work and play in, and so much opportunity to do things better.
---
Note: from here on I started asking for headshots for the episode artwork…only took me 2 months to figure out this would be a good idea 🙂
---
07: Johan Ekelund, Keyflow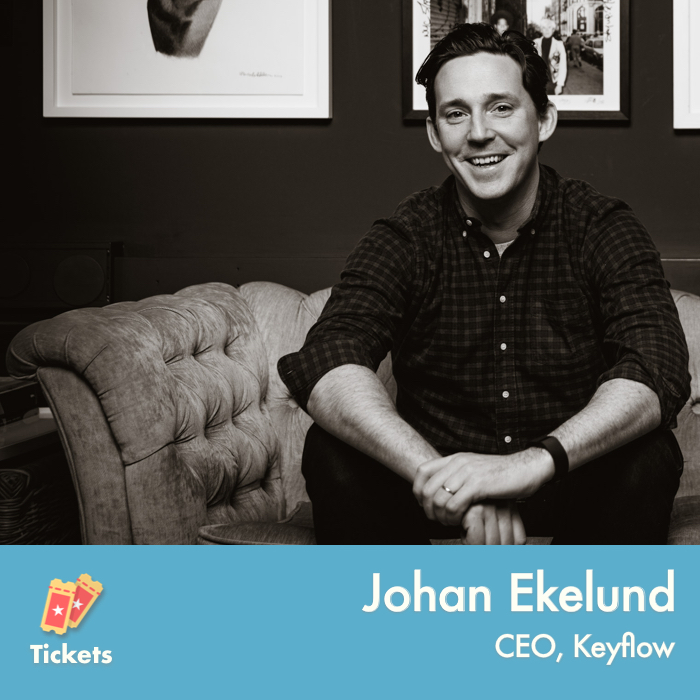 Rewind to London in 2015, and a young Swedish chap called Fabian spent a couple of months living with us in our apartment while he was searching for a long-term place. We missed him a lot when we moved out – as well as being polite, tidy and respectful like all the best house guests, he had great taste in music and an infectious positive outlook. We stayed in touch, and one day I got an email from him suggesting I speak to the CEO of a company he recently worked for as there could be a good fit for the podcast.
On the face of it, Keyflow both did and didn't make sense. It was a tech startup (not really my focus), but served customers promoting live events (much closer). I was on the fence a little but the CEO, Johan, had an interesting background and I trusted Fabian's judgment so we went for it.
It turned out to be a fascinating, wide-ranging episode covering the psychology of live event attendees, Nordic politics and societal norms, and the ups and downs of working internationally. Johan became a big supporter of Tickets and we keep each other updated with our news every few months. I also keep promising to visit Stockholm again – long overdue.
08: Dave Gamble, Royal Albert Hall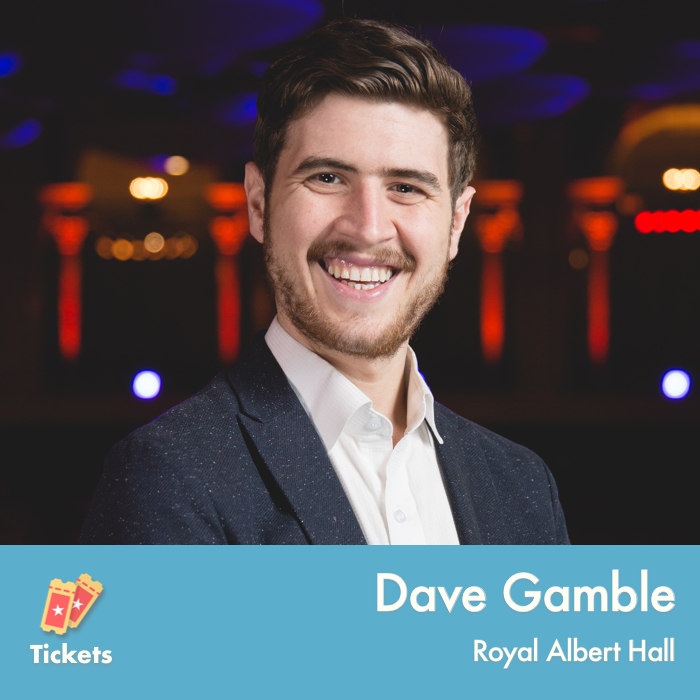 When I listed out my first ideas of people who could make good guests, Dave was on there. It took us a little while to book it in due to his busy schedule programming one of the world's most prestigious live event venues, but eventually we got there.
I've known Dave since he was a rookie promotions assistant at fabric, and it's been great to see his career progress from training at The Roundhouse to booking fabric's famous Fridays, and then working with a who's who of music and entertainment at The Royal Albert Hall. As well as being the enormous music fan you'd expect, he's also a voracious reader and always has fantastic book recommendations.
Along with our inevitable trip down memory lane to days of breakthrough drum & bass and the emergence dubstep, we got into the logistics of programming the Royal Albert Hall, and of course some of those books he loves most.
09: Dhruv Chopra, Elsewhere
This one was yet another cold email. In truth I probably could have got hold of Dhruv through and 2nd or 3rd degree connection but as I was trying to hit a weekly cadence of publishing I decided to just email Elsewhere's info@ email address. Usually this is a black hole for most companies, but a day later I got a reply and an intro to Dhruv.
This episode was the first and to date only episode recorded in someone else's home – Dhruv invited me to his place in Williamsburg one freezing cold Wednesday morning and we recorded the episode over a couple of cups of very good tea.
I'd done some research on Dhruv's background, but was still impressed at what a deep thinker he was. The angle that I loved about this episode was blending a desire to support creative artists, with the realities of real estate (and its financing) in a highly competitive city like New York, plus building a viable and thriving brand and venue.
A few weeks later my brother was in town, and Dhruv kindly invited my wife, brother and I to Elsewhere for the live Shigeto show. We all grabbed dinner nearby, and Dhruv then gave us the full tour of the venue, including the 'crypt' which was where he spent most of his time running the company's operations.
I'm pleased to report the gig, venue, and the bar's whiskey selection were all top notch. I've been back several times since.
10: Will Prince & Charlie Marshall, Parc Office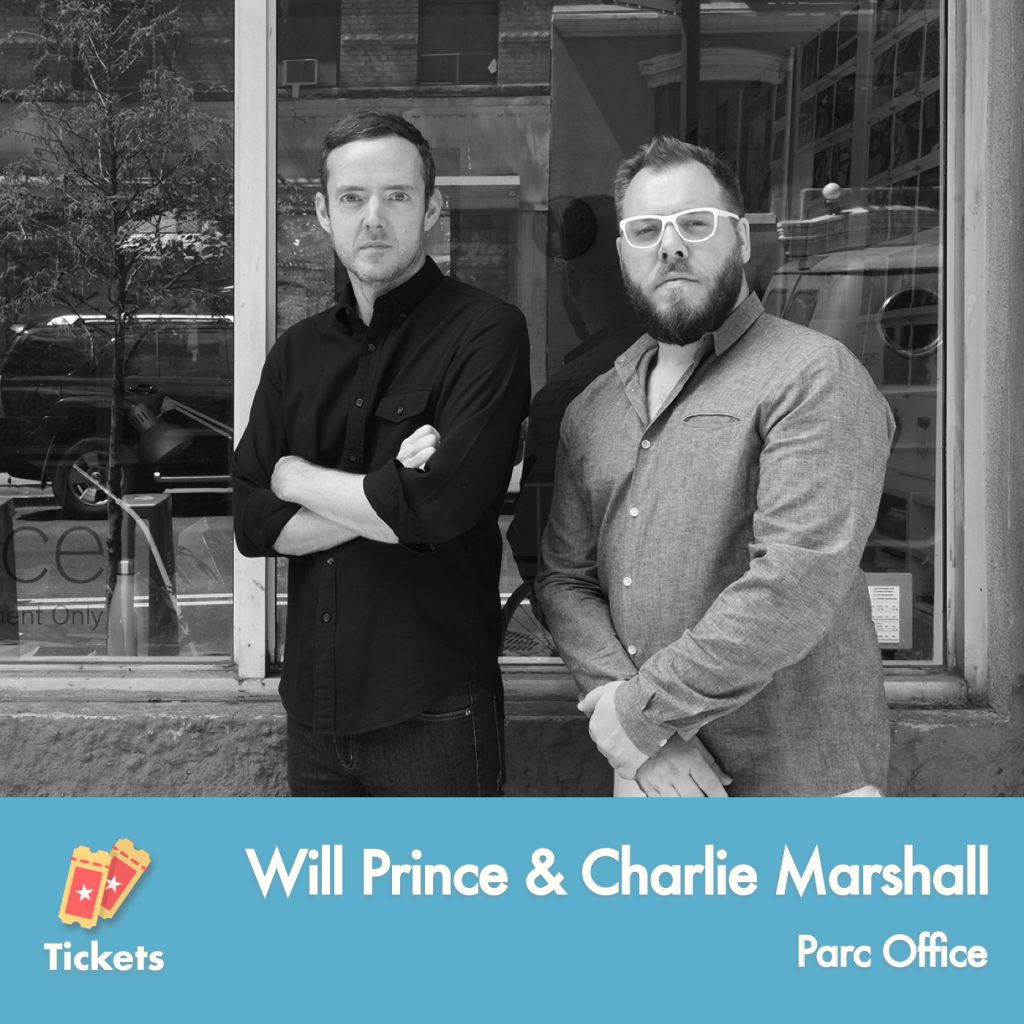 Parc Office was the second recommendation made by Alma. They'd done some incredible work, and this was another of those where I felt excited about doing the episode but also very aware I was out of my depth in terms of understanding the specific domain.
We recorded in the basement meeting room of their studio in the East Village, and despite only having one mic for them (the limitations of my gear showing up), I was relieved that the levels came out well enough in the end.
I also learned a bit about interviewing multiple people. There was a different dynamic as a host – reading the room so both guests got to speak at the right times and I got to ask the questions I wanted to, while also giving them the space they needed to confer and bounce off each other.
As with many episodes, the conversation went in different directions than I expected: pyschology, Instagram and buying habits were all juicy topics we dived into alongside space and experience design.
11: Mia Tramz, Time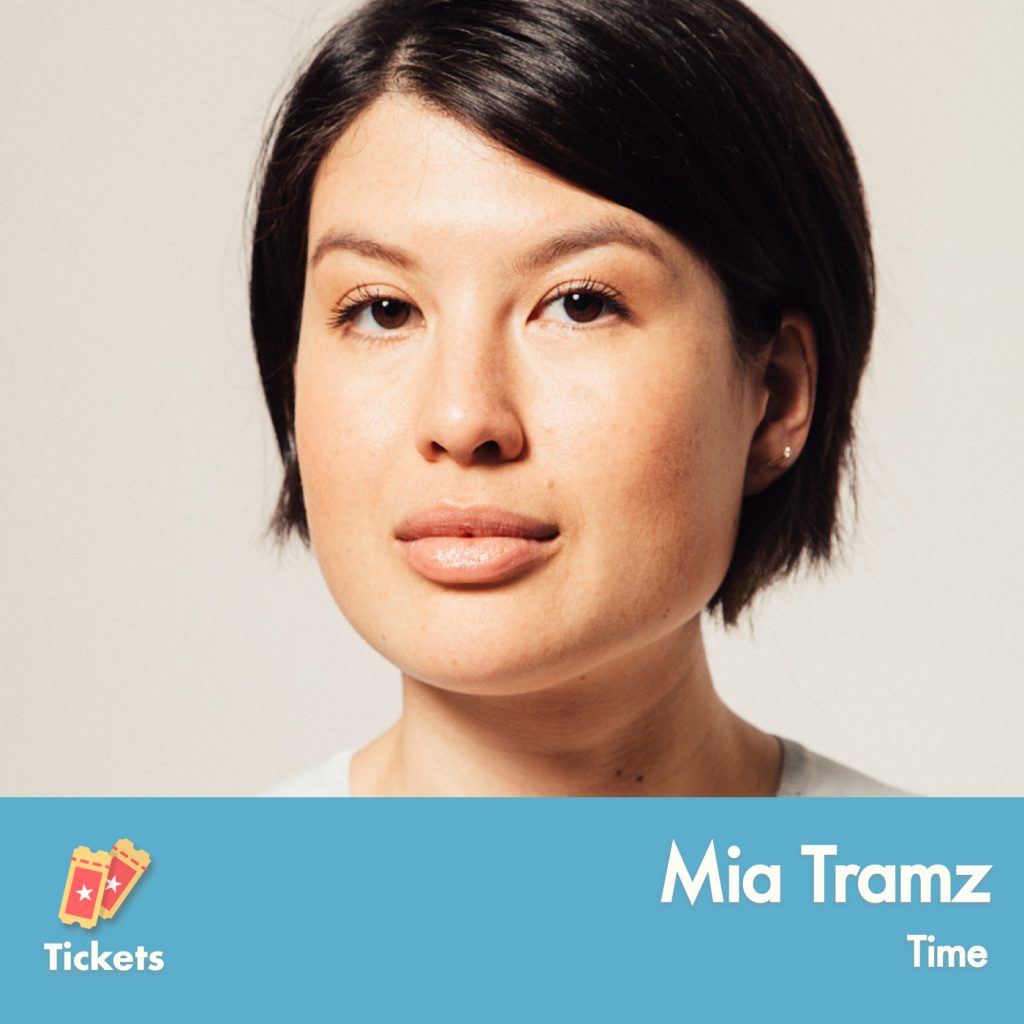 One evening in February an acquaintance invited me to an event in the Lower East Side hosted by Fiverr. I couldn't get there until near the end of the panel session, but caught a few minutes, including someone from Time Magazine talking about VR.
She had some interesting takes on what was going on in VR and more broadly, so at the end I introduced myself and somewhat sheepishly told her about the podcast (even at this stage I still found myself a bit embarrassed about doing it, for some reason or another).
A couple of weeks later and I was being ushered into a sleek recording studio within Time's gleaming building in the Financial District. We were using my gear, so out came my tote bag of low-budget kit. More sheepishness.
I needn't have worried – Mia was a wonderful guest, and as we talked I realized just how much of VR (and other mediums) is about storytelling. Technology comes second. Just like my podcast.
12: Ventura Barba, Sonar Festival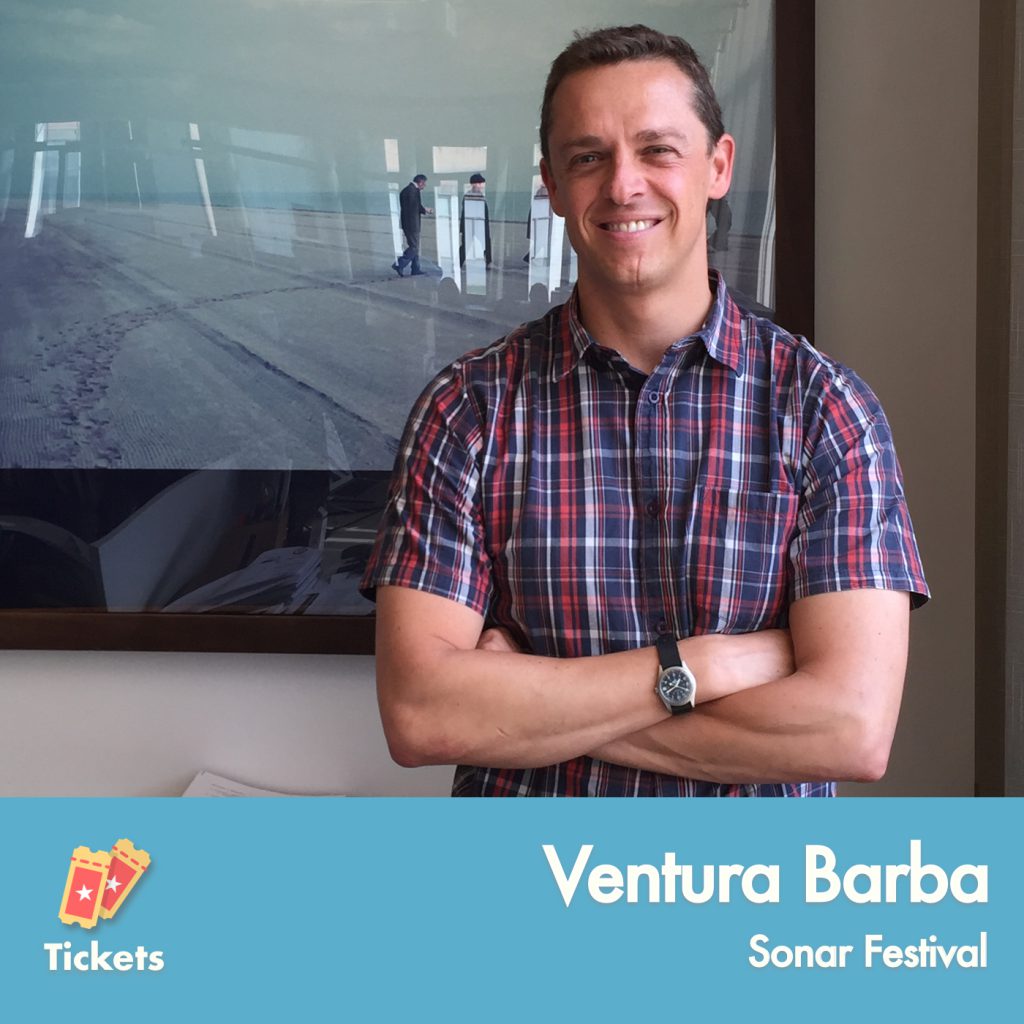 These guys were at the top of the wish list from the start.
Sonar Barcelona had a profound effect on me when I first visited in 2008: the glorious sun and Mediterranean vibes; an incredible music lineup; edgy technology and digital art; and a bunch of crazy parties on beaches and hotel rooftops around the city. I'd never experienced like it. I'd been 5 times since and always marveled at the quality and depth of what they were doing.
While I knew a couple of the programmers, I thought having someone from the business side would more interesting for Tickets as the festival had expanded to 5 cities around the world, and also forged partnerships with consumer brands and technology companies.
I think (!?) their head of PR Georgia remembered me, and got the company's CEO Ventura on board to record with me. This was one of those episodes I would have loved to do in-person but the festival was only a couple of months away so I grabbed the chance to do the call when I could.
Ventura's thoughts on the evolution of festivals and their deeper content partnerships with brands was the catalyst for me offering services in education design for these kind of live experiences. You never know where the ideas may come from…
13: Bart Higgins, What If
I read a piece Bart wrote for the New York Times, and having encountered What If through my time in London, I thought there was an interesting angle to chat about after my interest in places and spaces had been piqued from episodes with Parc Office and Ross at Delos.
The way this episode came about was unique in that Bart and I spoke three times, all in-person at What If's office (they were two blocks from my apartment which was handy).
Our first chat covered all kinds of stuff – from our respective back stories, to San Francisco deep house circa 1998, and how WeWork's business model may shake out.
I returned a couple of weeks later, and Bart had been buried in a big client project. Although he probably should have told me to come back another time, he insisted we talk but had to concede he hadn't found the time to properly prepare.
Instead, we spent the next hour plotting out how the episode curve should work, which topics we wanted to invest most time into, and how the transitions could be set up. I'd never done anything like that before, and it was hugely helpful in ensuring the final version we recorded a week later was well-paced, comprehensive and flowed.
Bart's episode is probably the one I've cited most to others in the last few months – the topics of the future of work, building communities, and the design of towns and cities just keep coming up as themes in so many different conversations and contexts.
14: Leith Stevens, Redeam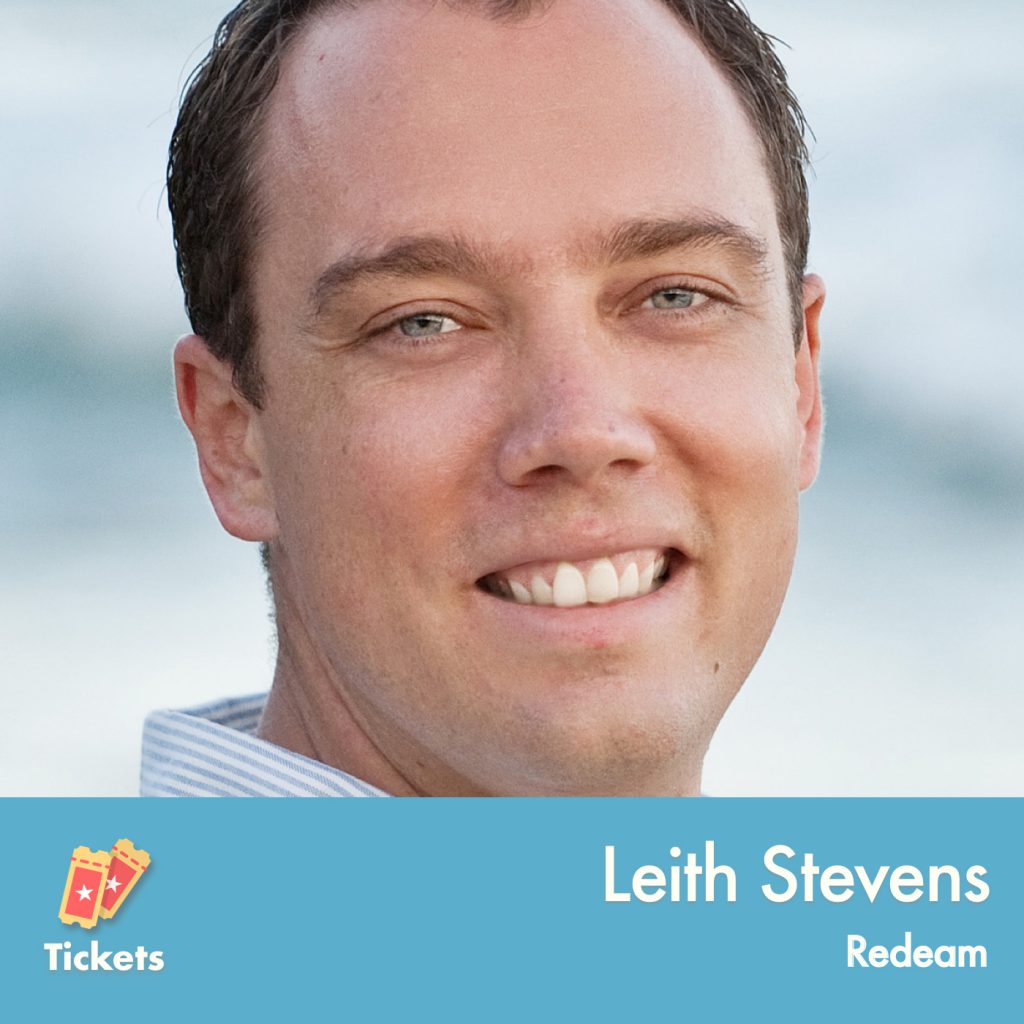 I got introduced to Leith by John Matson over at Voyager HQ.
As the season had evolved, it felt like Redeam being a travel and tourism company was a little outside of the core proposition of what Tickets had become, but on the other hand, they were in the ticket business for live events. What could be a better fit?!

As Leith was visiting from his base of Boulder, Colorado I needed to get a space to record the episode and couldn't find anywhere. Sheepishly I suggested he come to my apartment. We got on famously over a couple of cups of tea and tales of scuba diving, being a foreigner in the US and of course the ticketing and entertainment industries.

One of the aspects I loved most about Leith's episode was how his experiences and viewpoints were so applicable to many fields, not just travel. Since we met for the recording we've stayed in touch, and Leith's generosity and wisdom still stand out.
15: Victor de la Serra, elrow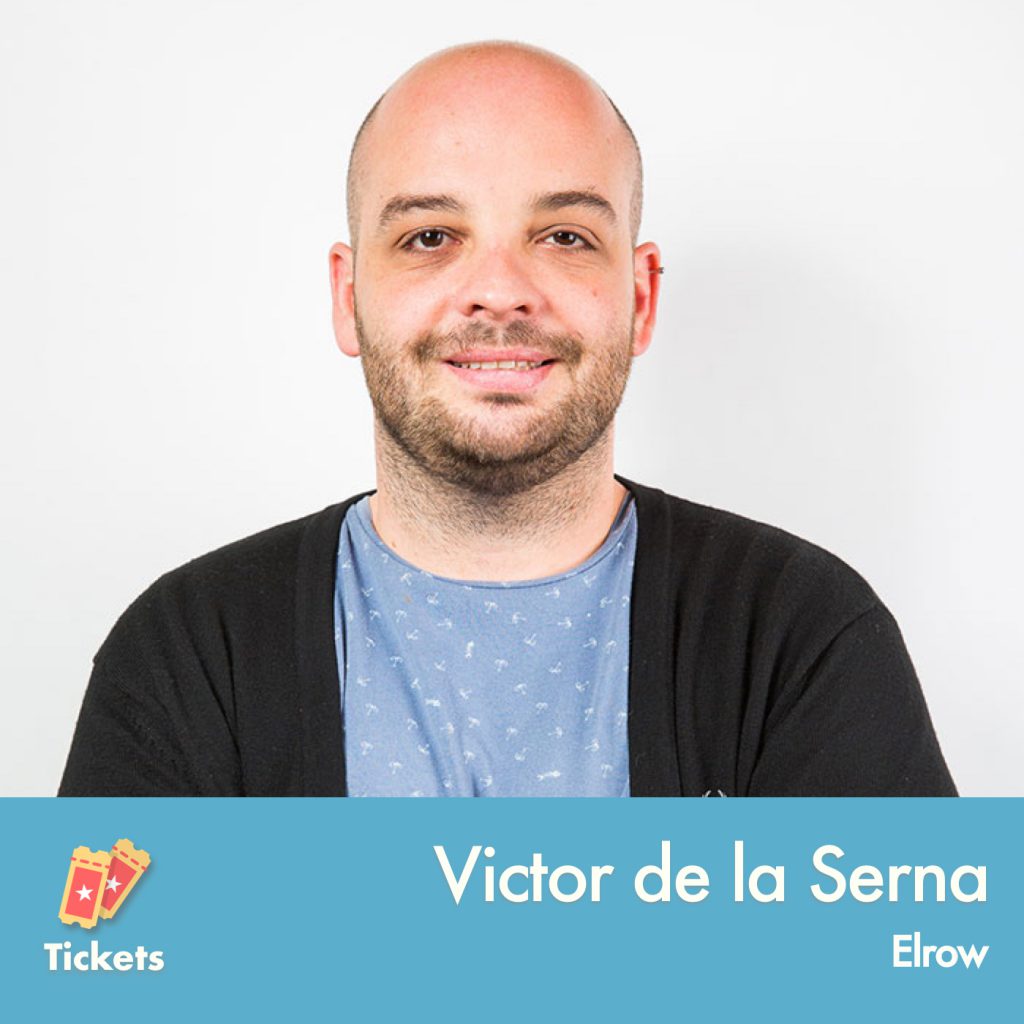 This was the second episode I did at my apartment. Victor had just flown in from Barcelona the night before and his natural energy and positive outlook shone through from the moment he walked through the door.
Unfortunately, the recorder's batteries ran out halfway through the episode (my Zoom H5's USB connection was patchy at best, hence going back to the AA batteries). We lost about 10 minutes which was a real shame as that was the section where he shared a number of insights on how Elrow delivered the production of their global events.
Regardless, this was one of the most entertaining episodes of the season – Victor has a great sense of humor and his warmth and energy shone through… although spending a morning (and then lunch) with him did make me miss Spain.
16: James Beshara, Airbnb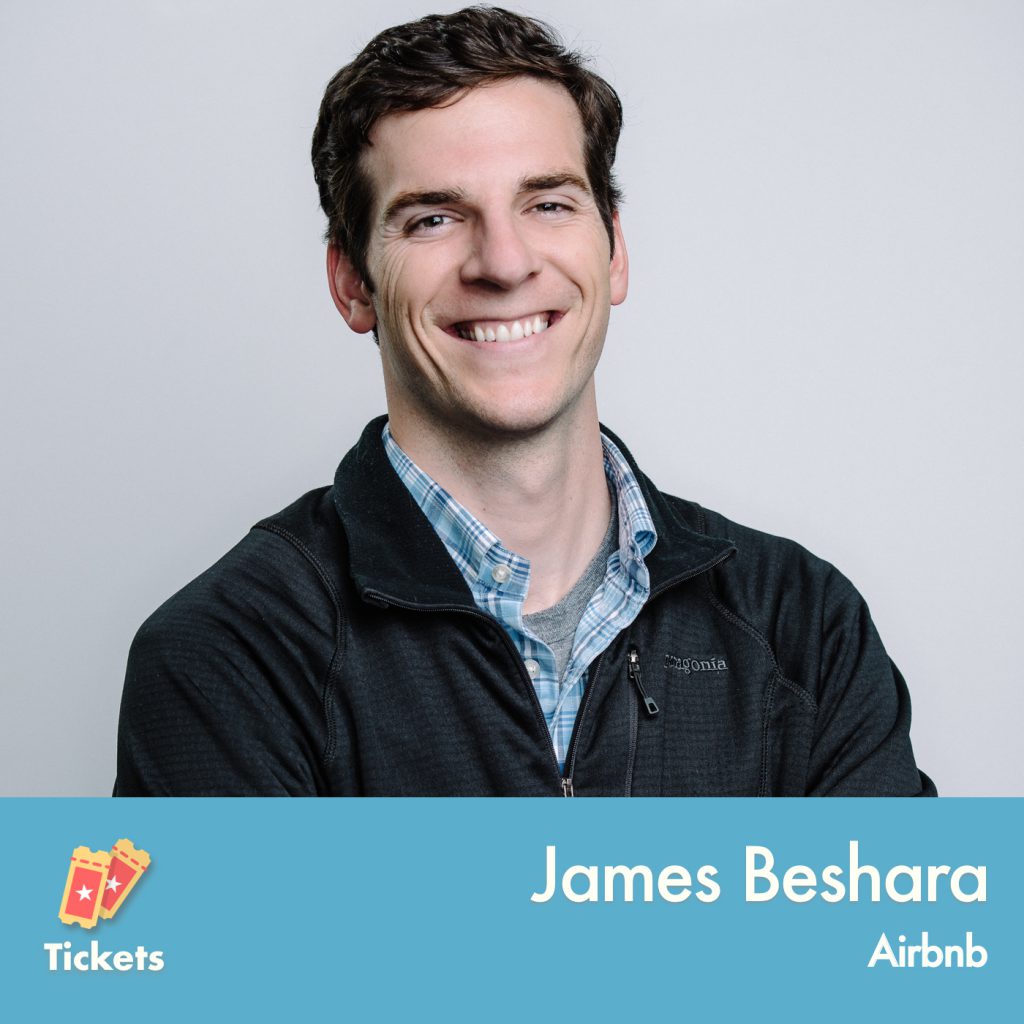 I'd been trying to secure this one for a while. Again it was one of my speculative cold emails off the back of seeing something interesting online. James had recently been announced as head of music for Airbnb's new experiences divisions and I felt there was a good fit with what I was doing.
I guessed his email address and got lucky. He passed my message onto Ali in the PR team at Airbnb who was very accommodating – the main challenge was getting time on his calendar.
After a couple of reschedules, we got there, and then disaster: I couldn't get the recording to work for our call.
This was arguably highest profile guest, for the last show of the season. I'd spent dozens of hours on the podcast, managing to somehow ship an episode every single week, and right on the final lap the wheels were coming off. It was a boiling hot May day in NYC, and I sat next to the sub-standard aircon in my home studio wondering what we were going to do. It reminded me of DJ gigs where there had been crippling technical problems and everything cuts out in front of an expectant audience – leaving me standing there helpless, apologetic and annoyed.
Luckily, Ali and James stepped up and recorded the episode themselves, tweaking the levels and all. My sigh of relief on receiving the in-tact audio file from Ali a few days later was audible. Season 1 was in the bag.
---
And that's the story of how a chat with a London lawyer turned into dozens of emails, hundreds of little edits, and thousands of words of show notes to publish 16 conversations over 12 hours of audio.
I've largely skipped over what went wrong, who said no, the bad questions I edited out, and tons of other headaches and glitches.
However, if you're interested in finding out about some of that stuff then let me know.
Sometimes there's just as much to be gained from went in the trash than what made the cut.
---
[1] I believe podcasting should be on the school curriculum – there aren't many places you can you learn so much about speaking, listening and storytelling, along with a number of technical skills, for almost zero cost.