Teaching, Speaking, Hosting
Inspiring audiences to make exciting and unexpected connections, and take their ideas further.
Talks, workshops and classes on entrepreneurship, storytelling and creativity for audiences, teams, and organizations.
Previous clients include Deloitte Global, Soho House, NBC Comcast, WeTransfer, The British Council, University of Westminster, and many more.
---
I love sharing what I've noticed, what I've learned, and what I see coming next.
One of the ways I do this is through workshops, classes and talks.Over the past few years, I've led over 250 workshops, keynotes, labs, and masterclasses, as well as moderating panels and presenting shows.
Scroll down for current speaking topics, examples, testimonials, and more.
By the way, I guess I could call myself a 'speaker', but my vibe is more geared to interaction and experiential learning - so 'teaching' is a better fit.
---
Highlight Topics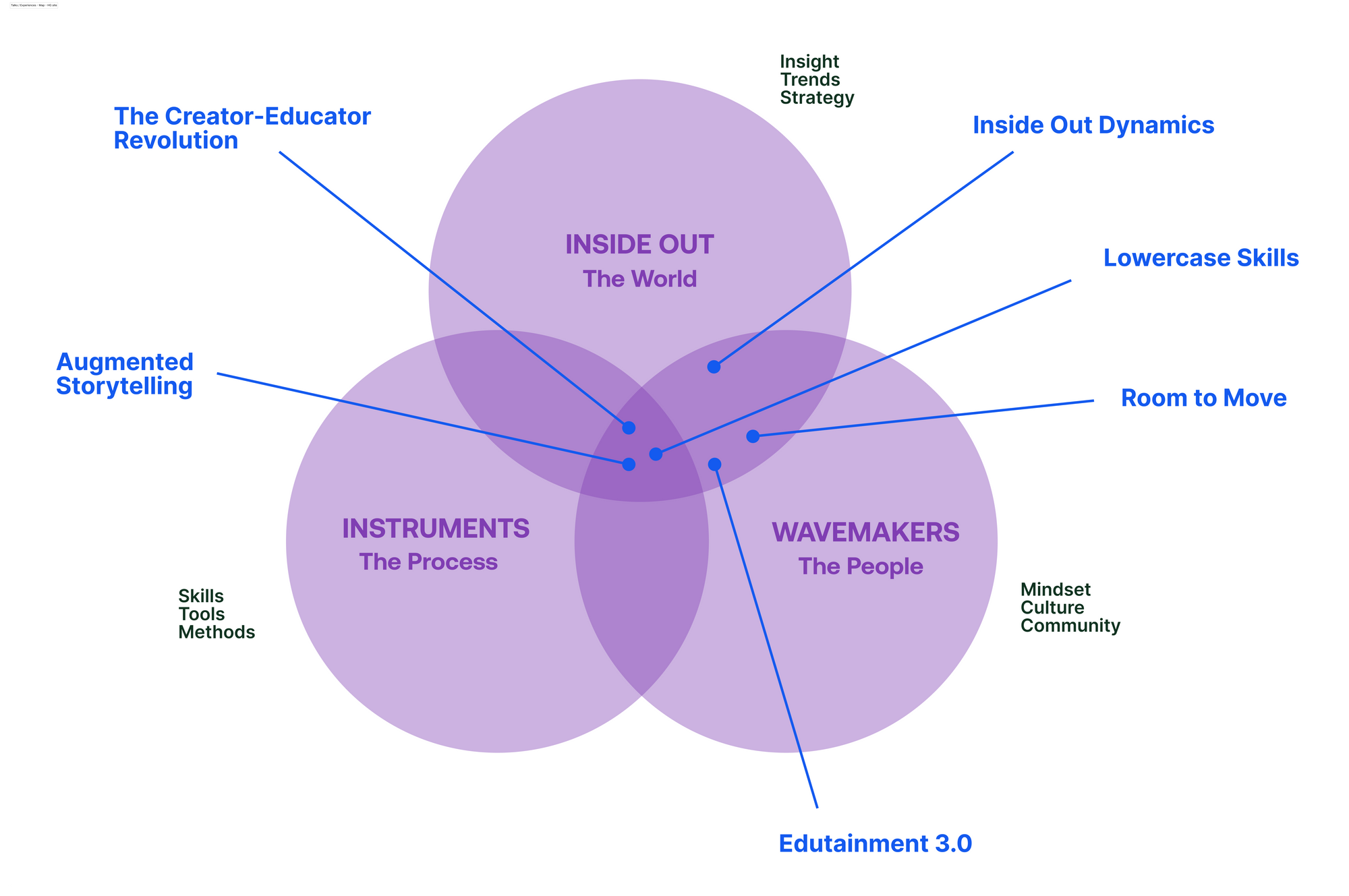 Below are some of the topics I cover most regularly, including available formats. I'm also very open to creating a custom talk or workshop based on your needs. To inquire about any of my speaking work you can contact me here.
01: The Creator-Educator Revolution: Empowering Employees as Entrepreneurial Forces and Educators in the Creator Economy
Synopsis: Uncover the transformative potential of fostering a culture that encourages employees to embrace their entrepreneurial spirit, harness their skills as educators, and navigate the dynamic landscape of the creator economy, revolutionizing both personal growth and organizational success.
Themes: Future of Work, Creator Economy, Employee Experience, Innovation, Employer Brand
Suggested Audiences: C-Suite; People, Talent & Culture Leaders; Marketing & Communications Leaders; IP Owners
Formats: Talk, Workshop / Program
02: Why Inside Out dynamics are your company's new opportunity
Synopsis: We now live in a world where the biggest opportunities - and barriers - for organizational and individual growth come from what happens inside. This session highlights the people and companies using inside out dynamics to make positive change - and how you can do the same.
Themes: Future of Work, Company Culture, Stakeholder Centricity, Business Strategy
Suggested Audiences: C-Suite; People, Talent & Culture Leaders; Communications Leaders
Format: Talk
03: Augmented Storytelling: Unleashing a New Wave of Creativity with AI Tools
Synopsis: Delve into the realm of augmented storytelling and explore how the integration of AI tools can revolutionize the creative process in all forms of storytelling. In this hands-on, immersive experience you'll learn how to integrate AI tools into your process; apply techniques to leverage AI-generated content; and recognize the trends - and challenges - to look out for.
Themes: Emergent Skills, Creator Economy, Future of Work, Innovation
Suggested Audiences: Creatives; Marketers; Communications Professionals
Format: Talk, Workshop / Program
04: Room to Move: Infusing Business Culture with the Magic of Cultural Spaces
Synopsis: What if businesses embraced the spirit of DJs, graffiti artists, and theatre producers? You'll learn how companies in all industries can adopt the essence of creative spaces to forge a fascinating new path towards innovation, growth, and prosperity.
Themes: Future of Work, Company Culture, Business Strategy, Employee Experience
Suggested Audiences: People, Talent & Culture Leaders; C-Suite
Format: Talk
05: Edutainment 3.0: Navigating the New Era of Liquid Learning
Synopsis: Discover the emerging landscape of remixable IP, creator-led courses, innovative educational institutions, and the growing importance of lifelong learning in organizations. This experience will show you the secrets of harnessing the power of Edutainment 3.0 and applying it to your own work.
Themes: Brand Marketing; Innovation; Communications; Future of Learning
Suggested Audiences: Marketers; Media & Entertainment Executives; CSR & Non Profit Leaders; Educators; L&D Professionals
Format: Talk
06: Unlocking the Power of Lowercase Skills
Synopsis: Discover how breaking free from traditional single-role constraints and 'capital case' skill sets will reshape the landscape of organizations, open up a whole new world of careers, and fuel groundbreaking innovation.
Themes: Future of Work; Organizational Design; Company Culture
Suggested Audiences: People, Talent & Culture Leaders; C-Suite; Creatives
Format: Talk
---
Hosting, Moderating & Presenting
If the speaker is in the spotlight, the host or moderator is the spotlight operator. I understand how important this role is when it comes to giving both speakers and audiences a great experience. It's a role I love to take on, and something I take seriously. If you're looking for a measured and considerate host, let's talk.
What I've done:
Host and moderator for conference sessions and podcast recordings with leaders from companies such as Apple, Adobe, The New York Times, Glastonbury Festival, PBS, SXSW, Duolingo, Airbnb, and Sonar Festival
Show-floor tour guide for senior corporate and government leaders visiting large-scale conferences such as CES and LiveWorx
Member of the advisory committee for SXSW
Facilitator of 250+ experiential learning workshops
Hundreds of hours of coaching sessions as a certified leadership coach
Soccer coaching and refereeing (trust me, these are very helpful transferrable skills!)
---
Clients
Speaking and workshop engagements include work with organizations, conferences, and events including:
| Global Corporations | Education & Cultural Institutions | Creative Leaders |
| --- | --- | --- |
| Deloitte Global | The British Council | NAB Show |
| NBC Comcast | ISDI Business School | Betaworks |
| IBM | The New School | CMX Summit |
| Mastercard | NYC Climate Week | Creative Mornings |
| Moet-Hennessy | University of Westminster | Entrepreneurs' Organization |
| Spotify | Victoria & Albert Museum | Jam London |
| Ubisoft | CES | 300 Entertainment |
---
In Action
Talks & Workshops
Teaching / Riffing / Vibing
---
What they say
"Not only is Howard a seasoned expert in teaching the subject of storytelling, but he is an engaging storyteller himself! He uses well practiced tactics in an interactive way that truly unites a story to the community it's being shared with.

I highly recommend having Howard share his knowledge on storytelling as he teaches how to create movement, change, and transformation via impactful stories. It's a lesson we all could use."

Ann-Marie Pawlicki - CMX Summit
From Various Fortune 100 clients across financial services, technology, manufacturing, and food industries:
'Always excellent at explaining and making things easily understandable'

'Incredibly supportive and knowledgeable'

'great presentation skills and interpersonal skills'

'Awesome! Dynamic and engaging'

'Engaging, humorous, conducive to learning, helpful, personal, understanding'

'GREAT! super helpful, friendly and responsive'

'Howard is really cool; easy and fun exercises. Very thought provoking'

'Howard is amazing! Humorous and helpful'

'Fun, dynamic, hands-on, funny, great energy, and full of information'
From participants and program partners of AMP NYC: a first of its kind accelerator program backed by NYC Mayor's Office of Media & Entertainment
"Howard's facilitation in the classroom exemplified an impressive blend of creativity, analytics, and empathy, and his passion and dedication to learning completely shined through while working with him. He has the unique ability to remain agile, sharp, and calm within ambiguous circumstances."

"Extraordinary – one of the best teachers I've had in any environment"

"THANK YOU HOWARD! I have the deepest respect for you and really am honored that I got to take your class. You are an amazing educator and an awesome cheerleader."

'Howard has really helped me gain the confidence I need to grow my business and be great.'

'Howard is a great facilitator. He has a friendly and relatable teaching style as well as nicely designed decks that retain my focus and help me to absorb what I am meant to be learning.'
---
FAQ
Why you, and what's the vibe?
As a speaker, my goal is to share interesting ideas in the most engaging ways possible. Here's some background on my approach:
Point of view

: I've had an eclectic career (including being an illegal rave promoter, advertising producer, talent agent, entrepreneur, teacher, and soccer referee) and am hugely curious about the creativity, entrepreneurship, and the future of work. Along the way I've done a lot of writing, curating, speaking, and listening. I've done it in dozens of countries, in many industries, and with many many people. All this has helped me develop a unique point of view to share with your audience.

Experience and Experienced

: Creating a great experience matters: for clients, production partners, and of course the audience. I value this greatly. I'm vastly experienced at creating meaningful live experiences both online and in-person, and have delivered talks and workshops around the world. And while no one wants there to be problems, I'm adept at dealing with challenges - from scheduling issues to technical hurdles.

Storytelling at the center

: I love storytelling. It's probably my number one skill. Scroll down for examples of my work.

No rehashing

: Whatever I'm doing, I'm not into pitching services or pummeling an audience with rehashed, repetitive content. Speaking is no different. I focus on delivering something that creates a shift in people to feel inspired, energized, and eager to start conversations and take action (I'm someone who didn't like lectures at school and university, after all). Every talk or workshop I create is customized for the audience, and there will probably be some alternative pop culture references in there too.

Tried and tested

: I teach ideas that I have tried myself. I am continually working on my craft as a storyteller, entrepreneur, builder and creative human. I'm also not afraid to share the stories of the things that didn't work (besides, that's usually where the best learning is).
Can I watch some of your talks?
The majority of speaking and workshops are done for private clients, but I do have videos from a select number of sessions.
If you're interested in viewing more than what's available on this page, just send me an email.
Do you ever speak for free?
Creating engaging and well-designed presentations takes a lot of time, energy, and effort so I don't tend to speak for free, with two exceptions:
charities and nonprofits with a mission close to my heart;

opportunities to visit places I haven't yet been to and really want to check out.
Are you in one of those locations, or run a charity or nonprofit? Drop me a note and let's chat…
---
Speaker Bio & Photos
Howard is founder of Wavetable, a creative studio helping organizations grow from the inside out.
Wavetable works with human-centric leaders to design and produce unique programs, experiences and products rooted in learning and connection: from industry conferences to leadership development initiatives; branded content hubs to apprenticeship programs.
Howard's background includes teaching and facilitation work around the world, and 10 years in digital media & entertainment as a producer, event promoter, talent agent, DJ, and entrepreneur.
As well as leading Wavetable, he is also a member of the advisory board of SXSW, and a certified professional coach. Perhaps most importantly, he's in an ongoing search for the perfect breakfast. 🍳
Photos