Tickets Podcast: David Lavin on representing some of the world's leading intellectual talent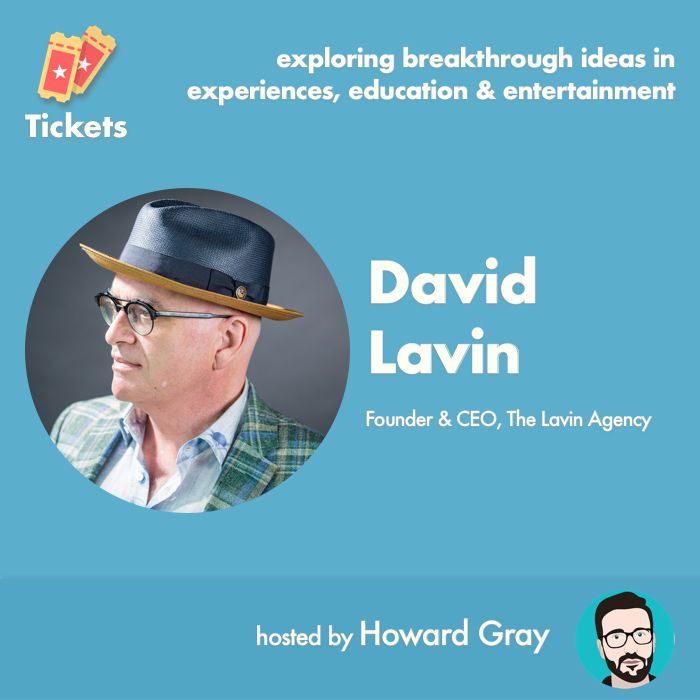 Listen now:
Apple Podcasts | Castbox | Overcast | Spotify | Stitcher | Acast | Google Play
Think about talent agents and the first image that comes to mind may be something similar to the character of Ari Gold in the TV show 'Entourage'; fast-talking, fickle, and more focused on the action toys and awards than the quality of the art.
But beyond the caricature, there's of course far more to this kind of work than meets the eye – and a growing range of talent with important ideas to share with the world.
On this episode of Tickets I'm joined by David Lavin, founder and CEO of The Lavin Agency.
The agency represents some of the world's leading intellectual talent; from bestselling authors Salman Rushdie and Margaret Atwood, to Angela Duckworth (Grit) and Steven Pinker (Enlightenment Now).
During this conversation, we get into what really makes for a compelling speaker, where there's space for new ideas in education, balancing risk and reward, and who's really worth booking for the $10,000 keynote.
Episode Overview
04:00 Getting started as a promoter, featuring a notorious journalist and the Toronto police SWAT team
09:00 The motivation to shift from promoter to agent
12:30 Learnings from the early days
16:00 Who should be giving the $10,000 keynotes?
20:00 Topics that are getting most attention right now
25:00 Traits of compelling speakers
31:00 New ways to think about education, and the challenge of lifelong learning
39:00 Why so many people don't dream big anymore
46:00 The power of books and the influence of music
51:00 The best speaker David has ever seen live

---
About David
David Lavin is the founder and president of The Lavin Agency—one of North America's largest intellectual talent agencies. His roster of exclusive keynote speakers includes Margaret Atwood; Salman Rushdie; Nicholas Thompson, the Editor in Chief of Wired; Angie Thomas, the #1 bestselling author of The Hate U Give; and Angela Duckworth, the #1 bestselling author of Grit. And many other interesting people!
The Lavin Agency consists of 35 staff, with offices in New York, Toronto, Vancouver, and Boston. It was founded in 1989, in Toronto, after David spent a few years as a successful live events promoter.
David was Canada's youngest chess master. He has lived in Barcelona, London, Paris, Berlin, San Francisco, New York, and Ibiza. His thoughts on the speaking industry have appeared in The Wall Street Journal, New York magazine, The National Post, and Hazlitt, and at the TED conference. Every year, David also hosts the invite-only Brain Candy conference—a gathering of exclusive Lavin speakers, staff, and a few close friends of the agency.