Tickets Podcast: Gary Chou and Christina Xu on entrepreneurship education and harnessing the power of networks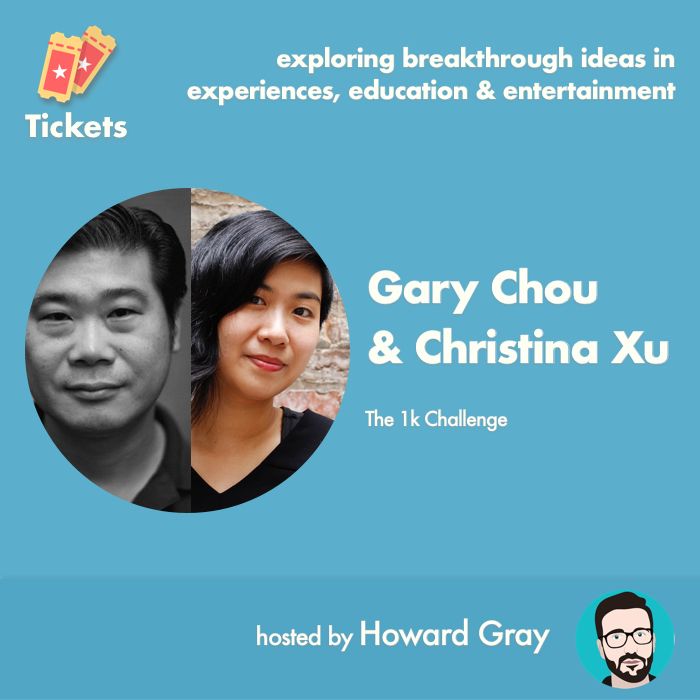 Listen now:
Apple Podcasts | Castbox | Overcast | Spotify | Stitcher | Acast | Google Play
Back in the late 2000s, a number of community-driven internet companies began to change the way new products and services were brought to life.
But even the most forward-thinking of those companies' founders may have been surprised at where their platforms are now being utilized.
One example is in the Interaction Design Program at the School of Visual Arts in New York. Over the last 7 years, over 100 students have taken on the challenge the make $1000 by design, launch and complete a crowdfunding campaign that benefits a community they've worked with over the course of the semester.
Today on Tickets I'm joined by the teachers of the 1k challenge, Gary Chou and Christina Xu.
As the challenge completes its 7th edition, they're now sharing what they've learned so far via Teach the 1k – a workshop to help other entrepreneurship educators run their own 1k challenges.
In this conversation, we talk about the importance of constraints for creativity, the benefits of communities of practice, and the fear of putting our work and ourselves out there on the internet.
Gary & Christina online:
Background:
https://postindustrialdesign.school/background/
https://medium.com/@garychou/infrastructure-and-interdependence-417e926c539c