Tickets Podcast: University Ventures' Daniel Pianko on new opportunities in higher education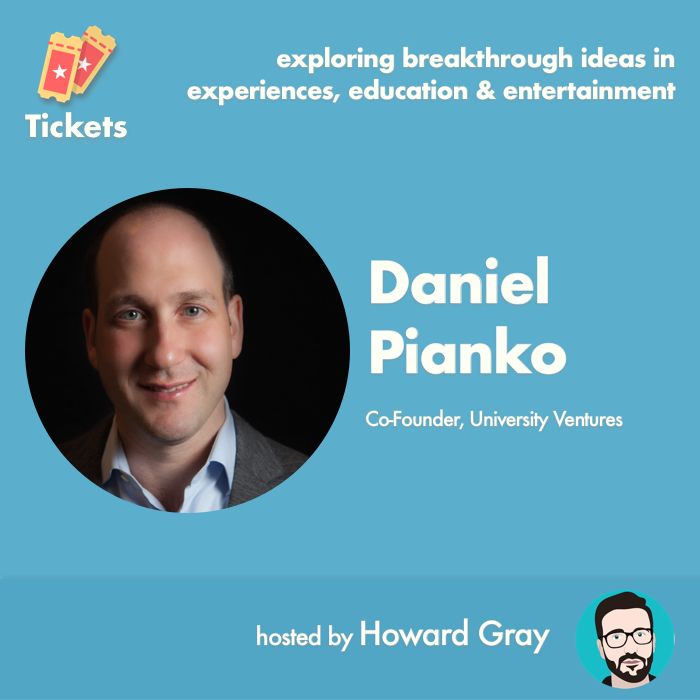 Listen now:
Apple Podcasts | Castbox | Overcast | Spotify | Stitcher | Acast | Google Play
Believe it or not, some of the key fundamentals of university haven't changed much in over a thousand years.

But with the US student debt crisis continuing to make headlines, employers' talent needs rapidly evolving, and software still eating the world, traditional higher education – like other industries before it – is now undergoing change like never before.

Today on Tickets I'm joined by Daniel Pianko. Co-Founder and Managing Director at University Ventures, a New York based venture capital firm focused on the future of higher education and the pathways that lead from education to employment.

In this wide-ranging conversation Daniel shares his insights into the importance of the live experience in learning, the knock-on effects of urbanization, and why having a great product can matter a lot less than you think.
---
Episode overview

02:30 Daniel's origin story
08:00 4 areas of interest for an education-focused fund
10:00 The future of medical school
17:00 University – from DMV to Uber
21:30 The future of work – now, not tomorrow
28:00 Flipped classrooms and using VR in education
33:00 Soft skills and how we teach
37:00 Hybrid spaces and the knock-on effects of urbanization
52:00 Advice for the incumbent university presidents
56:00 New innovations and advice for entrepreneurs in education
---
About Daniel
Daniel Pianko is co-founder and managing director at UV. With over a decade of experience in the education industry, Daniel has built a reputation as a trusted education adviser and innovator in student finance, medical education, and postsecondary education. A frequent commentator on higher education, Daniel's insights have been featured in national media outlets including The Wall Street Journal, CNBC, TechCrunch, Inside Higher Ed, and The Chronicle of Higher Education.
Daniel began his career in investment banking at Goldman Sachs, and quickly became intrigued by the potential of leveraging private capital to establish the next generation of socially beneficial education companies. After leaving Goldman, Daniel invested in, founded, advised, or managed a number of education-related businesses that led to the creation of UV. Prior to founding UV, he established a student loan fund, served as chief of staff for the public/private investments in the Philadelphia School District, and worked as a hedge fund analyst.
At UV, Daniel leads the firm's investments in the pioneering Ponce School of Medicine in Puerto Rico, University of Nicosia/St. George's University of London Medical School, Vemo Education, Qubed Education, Examity and Galvanize. He serves on a number of nonprofit boards, including the Board of Trustees of Harlem Village Academies.
Daniel graduated magna cum laude from Columbia University, and holds a M.B.A. and M.A. in Education from Stanford University. He is the proud father of three children.