Back to the coffee shop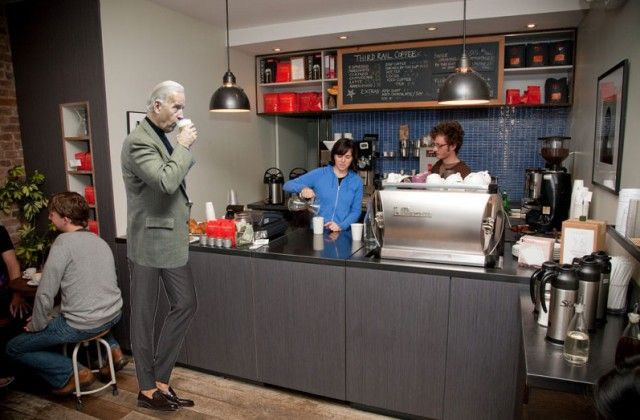 The Big Apple.
Gleaming skyscrapers.
Grand Central. Wall Street. Times Square.
Bright lights. Big city.
Big business.
Big bucks.
But what really runs this place are the small potatoes.
The small business is what makes NYC tick.
In my particularly populous region of Manhattan, there are small businesses everywhere. Sure, there's a Starbucks near the subway, and a CVS up the street, but take a walk through the East Village and independent businesses fill both the streets and the avenues.
During these times of pandemic, I'm thinking about small businesses more than ever.
Who's doing well? Who's on the brink?
Which ways can – and should – they pivot?
How are the owners and employees feeling about the future?
What's going to happen next?
In a world that continues to laud 10x returns, unicorns, and the big winners in the stock market, small business gets overlooked.
I'm no economist, but one thing I'm sure of is that the stock market is not the economy (and visa versa). The real lifeblood of an economy isn't the small group of huge companies, but the huge group of small companies.
And small business isn't just the lifeblood of an economy; it's much more than that. Where the company town has eroded, small business has become the linchpin of communities.
It's the same in cities too; even in the fast-paced, hard-charging city of New York.
As I walk (and occasionally run) around my neighbourhood each day, the small businesses I think of most often are the coffee shops – and two in particular.
A tale of two on tenth
On 10th Street, just an avenue apart, lie City of Saints and Third Rail.
These two unassuming stores helped shape my New York story.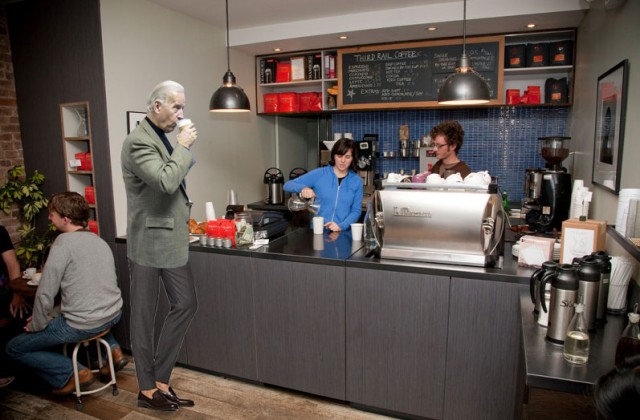 There were the winter mornings of early 2018 at Third Rail. Figuring out how to show up in this crazy, tangled city, I'd spend an hour or two sat hunched over my laptop; writing; searching; seeking. Many projects and plans were hatched in Third Rail with my back – literally and figuratively – against the wall.
Then, last Autumn; the Fall. Our morning ritual began to pass through City of Saints. Two flat whites, we perched on the bar stools, chatted breezily to the baristas about hiphop and North Carolina; bicycles and politics. Refreshed, we went onwards – her to the maws of the subway, me to heave the nearest Citibike downtown.
And so it became: perched on the skinny bench outside Third Rail watching the Saturday afternoon village traffic whizz by; City of Saints for that jutting quick fix to catapult us into the throb of midweek NYC.
Little did we know that unmistakable Manhattan energy would suddenly fade.
On the week of March 14th, when lockdown began to envelop the city, we headed to City of Saints to get a takeaway cup.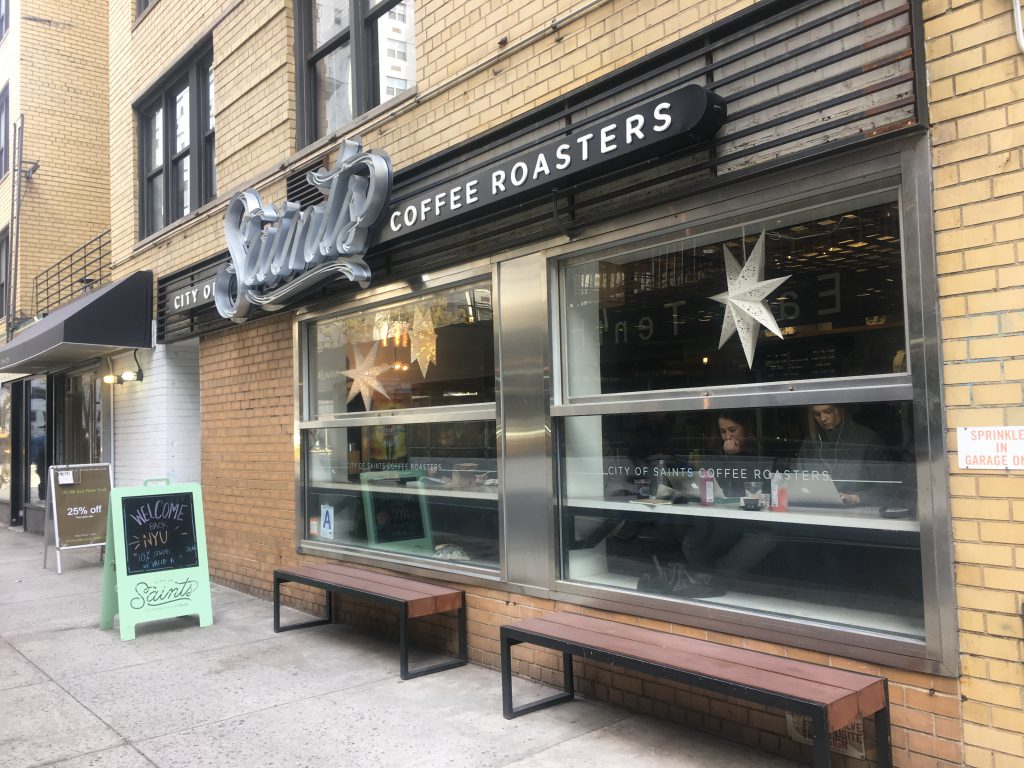 It was deserted, save for one figure: the manager. He sat crumpled on the edge of the bench just inside the door. His gaze went to the floor, meters below ground.
He'd just let everyone go, including himself. The company offered him offered a salaried role a few months before, but he decided to remain on a flexible schedule.
Now, like the rest of the crew, he had to step away. Destination and path unknown. They were closing until further notice. And he'd just told them all the news.
I'll never forget the look in his eyes. I'd been there. Different situation, but same feeling. I'd broken that news to someone I cared about.
We bought a big bag of coffee, left a hefty tip, and said goodbye. I murmured something about seeing him in a couple of weeks.
On the way home, we took a quick detour to see if Third Rail was open. The doors were locked.
I assumed these were temporary measures. These two coffee shops would survive and even thrive in the midst of what was going on.
They had the goodwill and trust from a large base of regulars. As essential businesses supplying food and beverages, they were permitted to continue trading.
Some local shops did indeed stay open, braving the tundra.
Most closed down quickly, then re-emerged as lockdown began to lift.
But these two didn't.
Nearly 5 months later in the dog days of summer, the spaces are still sadly dark.
Why does this matter?
Why not the florist, the barber shop, or the sneaker store?
Why care about the coffee shop more than the others?
The coffee shop isn't like the rest.
The coffee shop – perhaps especially in New York City – means something more.
Art, Ing, and Joy
In lieu of our two go-to spots being shuttered, we've found other places for our trendy Antipodean coffee cravings. There are other cafes ready to welcome us, but our main source of caffeine has come from the French Press in the kitchen. It's no La Marzocco, but it's gamely cranked back into action nonetheless. And it's been fine, of course. We've managed. It's only coffee.
However, this past weekend we were reminded of the true magic of the New York coffee shop.
Early on Friday evening, we hot-footed home as a thunderstorm began to brew. At the restaurant underneath our building, a brightly-dressed older couple were taking custody of their Friday night takeout.
I recognised one of them. It was Art. The block's resident trombone professional, he'd toured with luminaries like Duke Ellington, Stevie Wonder, and Bruce Springsteen. I met Art 6 months previously, at Third Rail of course. Our conversation led me to one of my favourite books, and re-energised me about life in this part of the world – and this part of the city. During our conversation, he'd mentioned his wife – a Norwegian artist and designer named Ing. And of course, as the sky rumbled overhead this was her standing in front of me: funky floral dress, and floppy fuchsia hat tilted on her head.
We got chatting – about the storm, and the pandemic, and those other things that seem to make up many conversations right now. Suddenly, Ing said "how about coffee tomorrow?"
Our British reflexes kicked in.
Coffee?
With strangers?
Who are old enough to be our parents?
Tomorrow?
Automatic excuse algorithm now commencing…
Luckily, after 3 years in New York, we've learned to overcome this pattern. Saturday at 10am confirmed.
The next day we went to Mud. Arguably the most well-known coffee shop in the locale, it's something of an East Village institution, sat directly across from the equally venerable Ukrainian diner Veselka. I don't like the coffee there much, but coffee shops aren't really about the coffee.
Over 2 hours sat out on a (socially distanced) bench positioned in place of a parking space, we shared stories of love and loss; immigration and inspiration; invention and reinvention.
And a 30 years age gap isn't really a gap; it's a bridge. History doesn't repeat itself, but it sure does rhyme.
A pair of new friends, from just down the block. All thanks to the local coffee shop.
Howdy, Partners
The next day we decided to go for a walk.
Naturally, we wanted a coffee. We took the newspaper with us. It was sunny and we could find a spot outside to digest the stack of New York Times supplements.
Heading West into the other village, I somewhat arbitrarily picked a coffee shop. It was closed. As was the next one. Third time lucky, we crossed 7th and landed at Partners. Awnings, benches, and a nice line in piccolos and cortados.
Said benches were full, so we took a place on the neighbor's stoop. We were out of luck and out of shade as the sun blazed. Just as I unfolded my legs to start the wander to the next spot, someone made the motions of beginning to vacate one of the coffee shop's benches.
The reshuffling of the bag; the slow stretch; the mid-view gaze.
I snapped into action.
It was hot, and I knew the drill: no time to waste. I lunged for the vacant place within a second of their posterior departing the seat.
Feeling pleased with myself, and energized by the course of caffeine flowing through me, I chirpily greeted the lady on the neighboring bench.
She was wearing a funky floral floral dress and a floppy hat. Just like our friend from the day before.
'Hello, how are you doing?' she replied.
Two hours later, we said farewell to a new friend.
Joy was a researcher with a similar background to my wife, and a line in passion projects that closely mirrored my own (education programs for young people, especially through music). She'd had lives in multiple countries, multiple cities, and although her passport came from elsewhere, this place – New York, Manhattan, West Village, Partners Coffee – was home.
New York is where you can be anyone, meet anyone, become anyone.
You can hear stories like nowhere else. You can find the others, find a friend, find inspiration.
You've just got to know where to look.
Where better than the coffee shop?
---
PS. The evening before I published this, I walked down 2nd Ave. As I arrived at 10th St, I saw Third Rail's lights were on.