The Educator in Residence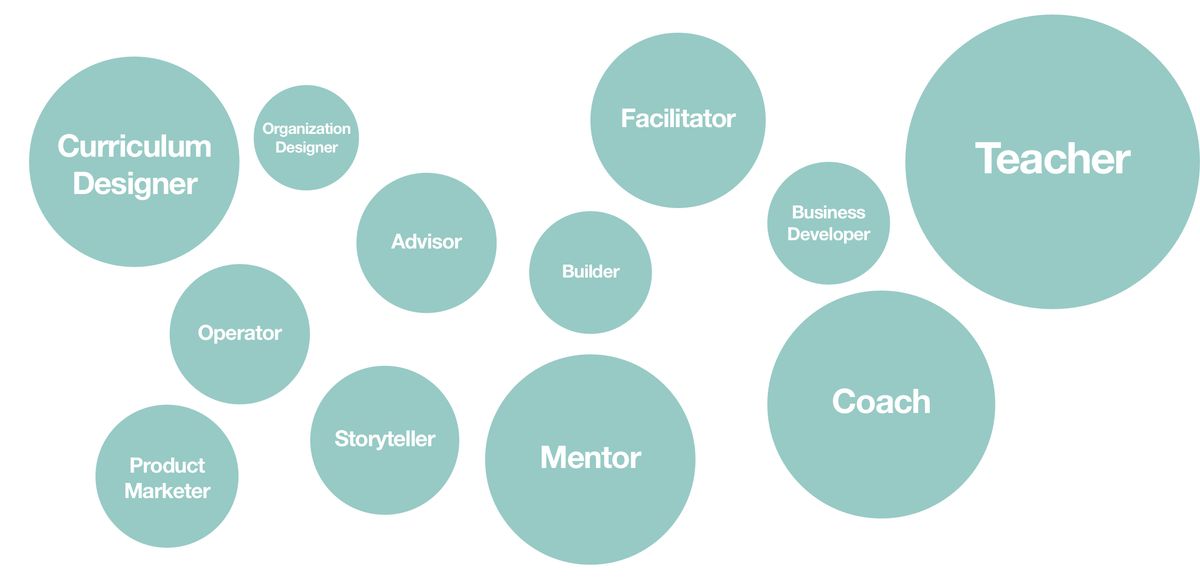 Why a different type of EIR could be your firm's new secret weapon
In 1989, the Hollywood talent agency CAA moved into its new $25m offices designed by star architect I.M Pei.
In a little over a decade the company had grown from a $21,000 bank loan and no employees to brokering billion-dollar corporate deals and representing stars including Tom Cruise, Sylvester Stallone, and Robert de Niro. How?
They'd gone beyond and beneath what looked to be their core business. As CAA co-founder Michael Ovitz describes in his memoir 'Who is Michael Ovitz?':
'We were ultra-competitive and we were in a service business but my thesis was that we weren't selling a product.

We were selling and putting together people's dreams .'

Michael Ovitz, CAA
To become the dream partners of choice, CAA began providing a growing suite of additional services to create and deliver more value and more abundance for the people they served.
Fast forward to today and we live in a world of even greater abundance than the time of CAA's growth surge. Organizations of all types are investing in new ideas and ventures, and they're doing so across an unprecedented range of sectors and geographies.
However, for many companies seeking to invest in what's next, this abundant environment has led to increased competition and an urgent need to seek new points of differentiation.
A hint towards a solution can again be found in Ovitz's book:
"Nobody wants to be treated as just what they are.

Everyone wants to feel encouraged to become even more than they are—to become the best version of themselves."

Michael Ovitz
One area where there's enormous scope for companies to offer this – to become the partner in peoples' dreams – is through education, and more specifically by looking at the convergence point of two existing roles.
The emergence of the EIR
Back in the mid-90s, a number of Venture Capital firms started creating roles for successful entrepreneurs to support the firm's team on strategy, scouting and vetting. These relatively informal and often temporary positions were called 'Entrepreneurs in Residence' (EIRs).
In a world where incumbent organizations are now having to work harder than ever to stay ahead of the game, the EIR role has expanded into closely related areas such as startup accelerators and corporate venture arms, but also to advertising agencies, government departments, and business schools.
Meanwhile, a further shift has taken place in the venture capital firms where EIRs first emerged.
The Platform Teams created primarily to build networks and communities for the firm and its portfolio may be evolving towards what Nic Brisbourne, founder of London based firm Forward Partners, calls 'Applied VC', where portfolio companies are provided with pretty much anything they don't have on payroll: whether data science, HR, or growth marketing.
The leaders of the shift to this model are arguably Andreessen Horowitz (a16z), which adopted many of the strategies and tactics used by Ovitz and CAA; being on hand to offer almost any service a client could ever need, day or night.
Following the expansion of EIRs from VC firms into other sectors, there's huge potential for the Applied model to also permeate into new areas.
Within this range of services on offer, there's a fundamental and often overlooked area that's ripe for growth and evolution: the realm of education and learning.
Experts & Educators
In a world that can feel it has more VUCA (volatility, uncertainty, complexity, and ambiguity) than ever, most businesses now recognise the value of education for their teams and partners – whether hard skills such as data science, soft skills like non violent communication and storytelling, or tactical guidance on topics like marketing or hiring.
As you'd expect, much of this activity is delivered by subject matter experts.
However, as Wharton professor Adam Grant suggests, experts don't necessarily make the best teachers. Grant's opinion is counter to received wisdom, but there's surely a connection here with the student debt crisis and an ongoing unbundling of the traditional education system.
Opportunity therefore knocks not just for organizations to increase the educational opportunities they offer, but to make its design and delivery – in fact the whole learning environment – something Michael Ovitz and his tribe of Hollywood connectors and creators would be proud of.
Teams of professionals taking responsibility for learning in the workplace is nothing new, but approaches to design and delivery are ripe for a refresh. To better understand where we came from and we're going, it's worth looking at the history of the function of Learning & Development.
L&D: from perk to priority
In the wider business world, the area of education and learning was long the preserve of HR teams.
Over time, Learning & Development (L&D) roles began to emerge in larger companies as a subset of HR. The primary focus of L&D was to align both group and individual goals and performance with an organization's overall vision and objectives. This manifested through initiatives such as working with teams to help them adapt to change, creating education programs to tackle specific skill gaps, and bringing in executive coaches to work with high-potential employees.
In today's VUCA world, as businesses of all shapes and sizes have had to respond to changes in employee mindsets and expectations – along with the democratization of access to online learning tools and resources – learning and development roles have become far more prevalent in small and medium-sized enterprises.
Yet despite working to help a company thrive in these environments, one of the challenges L&D teams often face is not being seen as business partners.
This perception issue has a number of consequences: from a lack of resources, which leads to a limit on their impact; to initiatives being pushed down a company's priority list, and buy-in and commitment becoming difficult.
Perhaps the biggest challenge for L&D is simply a lingering perception as an employee perk rather than what it could be: a massive competitive advantage for an organization; something they just couldn't operate without.
This shift in perception is certainly starting to happen in some quarters, but one way it could be expedited with increased impact is through the emergence of a new hybrid role.
It brings the core essence of an Entrepreneur in Residence, looks through the lens of learning and education, and takes a holistic and future-facing view of an organization and its stakeholders.
It's also an EIR: the Educator in Residence.
---
Introducing the Educator in Residence
The Educator in Residence's core mission is to help an organization learn and evolve as a whole. In tomorrow's world 'whole' means everyone and everything an organization comes into contact with: senior executives to entry-level apprentices; its partners, suppliers, and clients; through to local communities and government. [1]
The Educator in Residence is connected across all these touchpoints: working internally with individuals teams; adding value for partners and customers; and creating new initiatives for the business to better connect with the wider world.
This flavor of EIR may have less execution focus than a traditional Entrepreneur in Residence, but they're still more than happy to get stuck in on marketing, strategy, code, or operations.
And while they possess undoubted skills as a facilitator, teacher or learning designer, they're equally comfortable in a business-facing role as they are an internal educator.
The Educator in Residence is seen as a commercially-aware coach and connector who can seamlessly operate across the spectrum of a business: from making company-wide organizational improvements; to working with specific individuals to upskill them; or playing a key role in launching new commercial projects.
For companies with existing L&D departments, the EIR augments them.
For those without, the EIR can sit alongside product or innovation teams, or act as a bridge towards a more formal L&D offering being designed over time.
Where do they come from?
The Educator in Residence could be:
An Entrepreneurial Educator: an educator with an entrepreneurial mindset, who creates their own learning programs, has run their own business, and/or has experience working in and with startup teams;
An Educating Entrepreneur: an entrepreneur with the ability to educate and teach through compelling storytelling and practical and applicable concepts;
An Educator of Entrepreneurs: bringing experience as a teacher or mentor in accelerator programs; supporting the growth of non-profit organizations; or providing coaching to founders
The Educator in Residence may have a traditional academic or L&D background, but is equally likely to come from product management, consulting, or user experience roles, amongst others.
Their superpowers include being able to synthesize and articulate diverse concepts, design and personalize content and experiences, and see entrepreneurial opportunities for utilizing education and learning in new ways.
What does the Educator in Residence do?
Operates both internally and externally; leading initiatives with in-house teams as well as being a value creator and revenue generator with external audiences and partners
Acts as a curator, identifying key needs in the organization and sourcing high-quality education partners
Thoughtfully designs learning environments and programs
Teaches and facilitates engaging workshops and classes
Coaches teams and individuals on leadership, personal development, presentation skills, and team dynamics
Unpacks complex terminology and concepts and acts as a translator, stress-tester, and conduit across teams, departments, and companies
Identifies, trains and nurtures new teachers and ambassadors within a company
Some of the projects they may get involved in include:
Creation of educational content to power a new product marketing effort
Building commercially-available learning programs and resources using company IP and talent (every forward-thinking organization could have their own Masterclass)
Supporting senior leadership and partners in developing coaching and facilitation skills
Design and facilitation of off-site and retreats
Performance coaching programs to help individuals become better storytellers and presenters
Identifying, training, and developing new EIRs
Who needs an Educator in Residence?
An Educator in Residence isn't for every company.
It's for organizations that aren't afraid to open up to better connect with employees, partners, and audiences.
They're willing to bet education and learning (particularly in alternative and emerging forms) is a secret weapon in their quest for ongoing success.
They want to do more in the area of L&D; either to augment their existing team or to sow the first seeds of a new offering.
Companies benefitting most from an Educator in Residence include:
Portfolio-focused firms: venture capital, private equity, talent agencies, and corporate venture divisions
Spaces & Places: coworking companies, cultural institutions, and real estate owners
IP & Media Owners: Businesses with legacy assets and tacit knowledge that can be unlocked, remixed, and reimagined
Where can you find them?
These hybrid talents may not seem easy to spot, but they're often hiding in plain sight.
You may find them creating accelerator programs, volunteering with after-school coding clubs, or facilitating workshops.
They may be graduating from a coaching program, operating as an L&D specialist, or finishing up a stint as an adjunct professor while hacking away on a side project. They'll be building lowercase skills.
They're a small but growing tribe, and they're going to be an increasingly valuable resource for tomorrow's successful organizations.
If you're one of them, or want to learn more, I'd love to hear from you.
---
Thanks to Andre Plaut, Josh Upton, and Murray Gray for reading drafts of this article.
[1] As organizations become more aware of their social impact and sustainability, I believe we'll see more companies move towards this new 'whole' where their stakeholder map becomes far broader.