My Local - London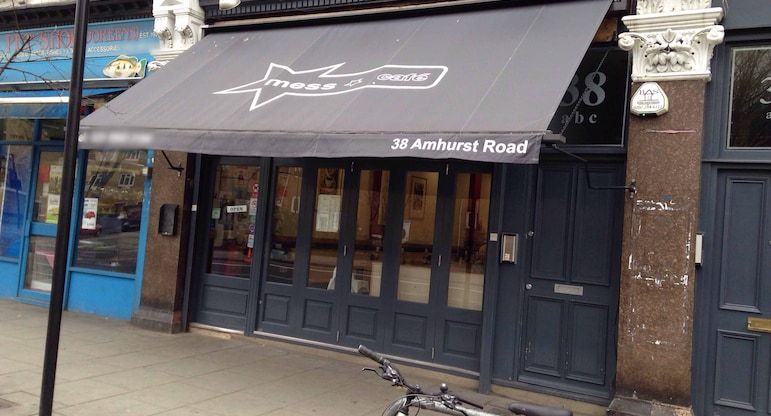 This article first appeared in book 1 of The Manifesto; 'Local' is a series of home town tips from music industry folk.
Brunch. Mess Cafe on Amhurst Road near Hackney Central. Great Saturday morning brunch for a fiver.
Coffee. The Gallery Cafe in Bethnal Green, next door to York Hall. I have Spanish lessons here early on Tuesday mornings and the coffee is crucial for verb conjugations.
Lunch. The understated Chinese restaurant on Red Lion Street. The Singapore Laksa is the must-have.
Restaurant. Buen Ayre on Broadway Market is still the undisputed champion. The full parrilla is outrageous — blood sausage, fried cheese, peppers, sweetbreads, plus a couple of inch-thick steaks for good measure, all washed down with a few glasses of Malbec. The closest I can get in London to La Cabrera restaurant in Palermo, Buenos Aires.
Meeting. If the sun's out, Gray's Inn Fields, a small sanctuary sandwiched between Holborn and Theobold's Road.
Books. I'm working my way through Michael Lewis' catalogue at the moment, also I read a little Alain de Botton when my brain can handle it, plus midway through 'London Fields' by Martin Amis.
Pizza. Ciao Bella on Lamb's Conduit Street is my pizza place of choice — the calzone is guaranteed to induce a food coma though, so go prepared.
Cocktail. Pisco Sour — my girlfriend loves them and I've been converted, so much so that the next long haul holiday has to got to be to Peru.
Beer. A pint of Windsor & Eton at the Gunmakers in Clerkenwell; light ale with a bit of citrus.
Local. Kuzu on Well Street in Hackney. Traditional Turkish ocakbasi, £7 for a bonanza of lamb beyti, salad, rice and bread — it's become a ritual on Sunday evenings after a weekend away. It's so good that my friend who is a food critic goes there by choice instead of the various posh establishments she can eat at for free.
Mobile Office. Top deck of the 38 bus.
Relax. Savasana.
Wander. Victoria Park. I still think it's the best park in London.