The Workshop Stack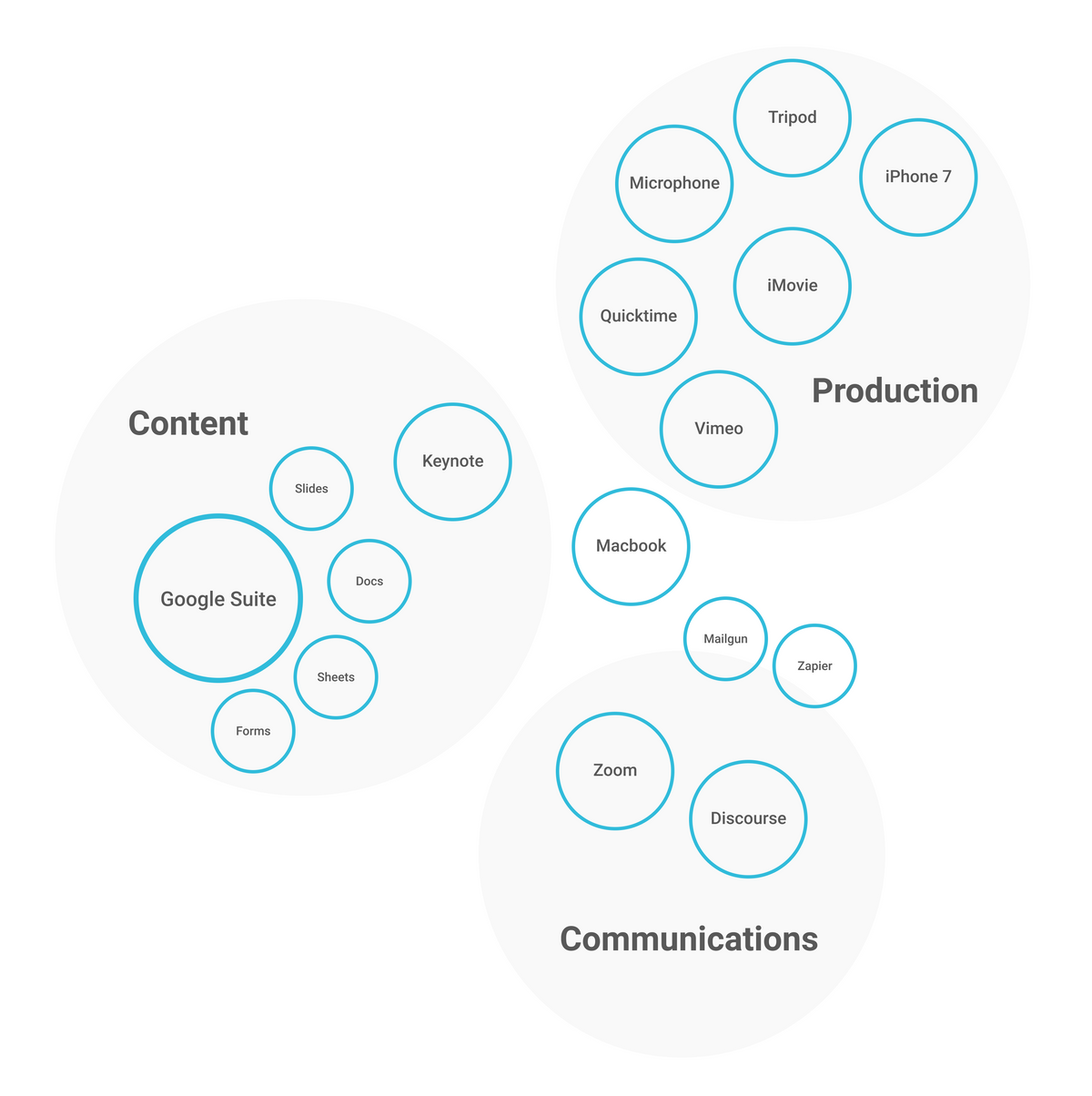 Here at Wavetable we're very excited about the future of learning.
We believe two of the biggest factors in this future are workshops and a new wave of educator-creators.
We'll see enormous growth in interactive workshops sculpted and led by a diverse range of creative educators who want to make a difference. They'll not just share knowledge, but will increase access, equity, and connection.
Our mission is to help make that future happen. We're doing that by creating workshops and programs in collaboration with brands, through our own proprietary workshops, and by providing a platform and community for this new wave of educator-creators.
Our flagship Wavetable workshop is Workshop Creator – a workshop to help people build the secret skillset of workshop creation: including learning design, content creation, facilitation, and presentation skills.
We run Workshop Creator both in-person and online (our next edition is now open for registrations), and for our first fully online edition we decided to offer the entire program free of charge to anyone who donated to one of our team's chosen nonprofits:
Build: Uses the power of entrepreneurship to ignite the potential of youth in under-resourced communities and prepare them for high school, college, and careers
The Roundhouse: London's Roundhouse is a venue and creative hub giving young people the chance to engage with the arts through music, media and performance projects, inspiring them to reach further, dream bigger, and achieve more.
Streetwise Partners: Pairs business professionals with mentees who are unemployed or underemployed in order to provide them with the skills, resources, and access to networks they need to secure and maintain employment.
The Trevor Project: Provides crisis intervention and suicide prevention services for lesbian, gay, bisexual, transgender, queer and questioning young people under 25, as well as offering guidance and resources to parents and educators.
City Harvest: Feeds the more than 1.2 million New Yorkers who are food-insecure by rescuing millions of pounds of food and delivering it to hundreds of food pantries, soup kitchens and other community partners across the five boroughs.
In line with our mission to help create the future of learning, in this post we're going behind the scenes and sharing our workshop stack – the tools and technologies we use to make the workshop happen.
Inside the Workshop Creator Stack
This edition of Workshop Creator comprised 4 modules, 24 video episodes, 5 live sessions, a couple of hundred posts in the discussion forum, with 33 participants from 3 continents.
The stack to run the workshop was made up of 3 main intersecting areas:
Communications
Production
Content
Here's what it looks like.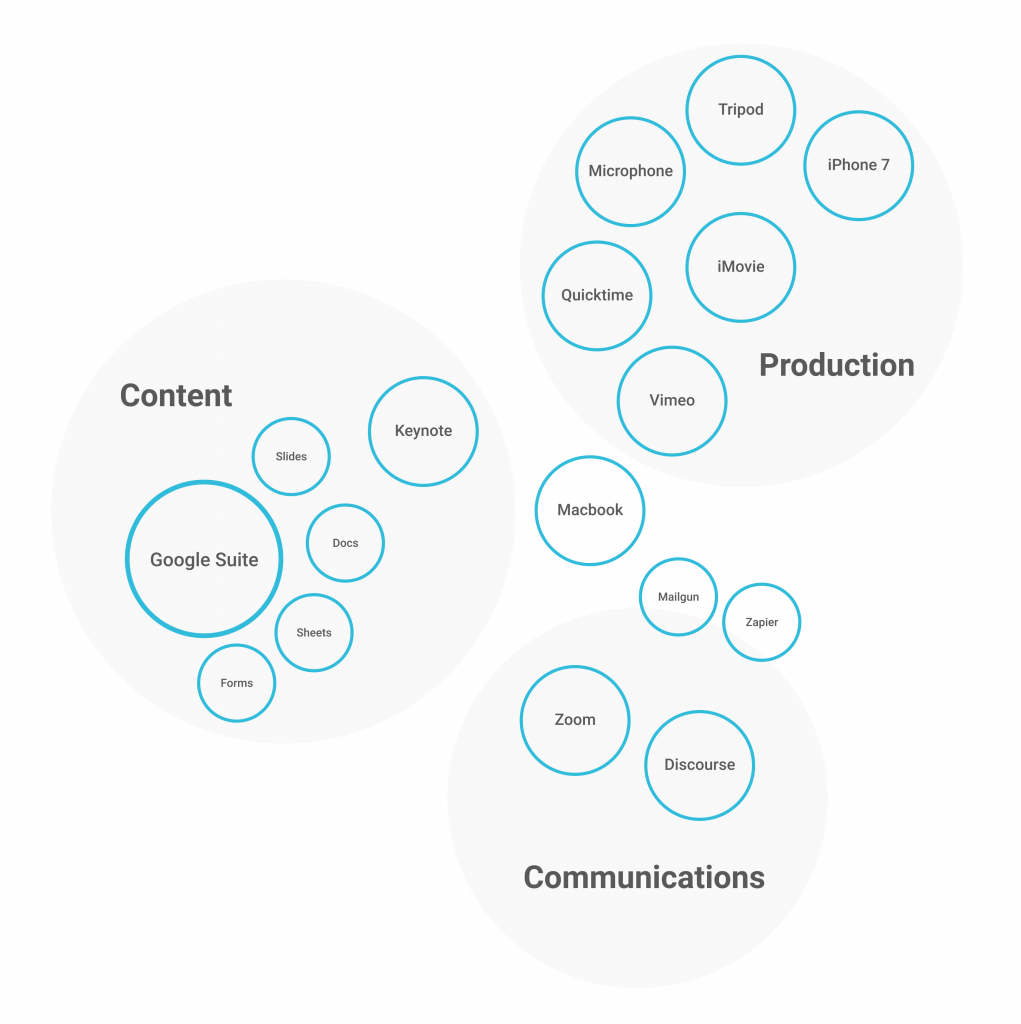 Some of these elements are paid for individually, others are packaged with hardware, some are purchased on a one-off basis, and others are completely free.
The only premium tools we used were Zoom (for longer call duration) and Vimeo (to create private links and increase weekly storage limits); everything else was either a one-off purchase (mic, tripod) or pre-bundled or available for free online.
Notwithstanding the mainframe (a MacBook laptop), the stack itself was inexpensive and relatively simple to set up, integrate, and operate.
Of course, the stack isn't where the work really is.
The real work is in the craft: research, collation, design, build, editing, communication, and project management. The craft doesn't come easy, but it's worth it 🙂
What we're doing next
A more customized and lightweight discussion forum: Discourse is solid, and a great open-source option, but benefits from customization for better user experience
Better lighting for filming: iPhone camera is surprisingly good, but like 80% of good fitness is diet, 80% of good filming maybe lighting)
More direct to camera video, and fun guerrilla fun scenes: because we don't want to feel like an 80s public information video
More bitesize episodes: many of our cohort were fine with investing the time, but we want to build for all learning styles and lifestyles
Increasing the length of the program: increasing by a week to allow more time for onboarding and integrating ideas
Accountability partners: Perhaps the smallest change, but arguably the most valuable – we'll be pairing up participants to support and check-in with one another throughout the experience
We're fascinated by this new future of learning, whether it's in-person, online, or blended.
If you're interested to learn more about how we're thinking about this, or want to share what you're working on in this area – just drop us a line.