Overwhelm, Skateboards, and a new podcast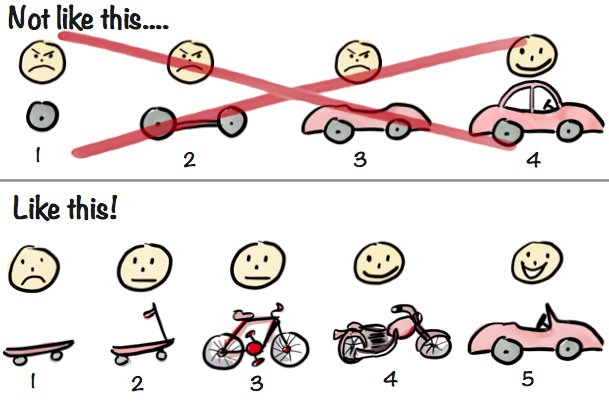 When we see a top performer in action they can seem to be floating on air.
They're able to effortlessly riff, duck, and weave.
The waves they ride just keep on waving.
We wonder: how do they manage this to keep this going seamlessly for 30 minutes, an hour, a day, a week? Month after month, year after year?
Take standup comedy, for example. The standards for stand up comedians usually start at a 5-minute set. 
Doesn't sound like much, but try it out and it'll feel like an age. From there a standup can work up to 10 minutes, 15 minutes, maybe 30. The aim is to get to the hour.
The problem we face is we look at the hours, days, or months first. 
Even though we aspire to become the star performers, the reality is they can intimidate us.
They don't push towards doing the work: they inadvertently push us away.
We ask ourselves:
How could we ever freestyle a whole track? 

Teach a complete semester? 

Play the entire season?

Complete a full routine?
This overwhelm, this fear, creates resistance and pushes us away from the flame.
Perhaps we need to think about skateboards – or, as Henrik Kniberg puts it when thinking about building products – opting for a skateboard ahead of a chassis.
We often look at the gleaming Bentley or Aston Martin, and dream of taking it for a spin, but even if we do believe we can get there, the steps on the way can feel too much to tackle.
And so to get started we may focus in on creating a tyre, a gearstick, or an exhaust pipe.
There's value in the design and engineering of doing this work, but we may miss the question of what and who these efforts are for. And we risk falling into the trap of perfectionism, of the pieces never leaving the assembly line. Never even leaving the drafting page.
Instead, we can make a skateboard.
A skateboard doesn't go especially fast, or travel particularly smoothly. We'll probably fall off a few times. The thing may even snap in half.
But if we're aiming to get to the Ferrari, or just the second-hand sedan, it's really the only way to get where we want to go. 
All of this is to say, our marvelling at the sleekest vehicles can leave us spinning our wheels. Instead of worrying about what we don't have, about our lack of poise and polish, perhaps we can go the other way.
Hack together a skateboard. Slap a sticker or two on it. Make it ours.
Maybe it'll be an ugly duckling, ignored by the rest, and only for us.
Chances are everyone else is still looking at the Bentleys, riding the Harleys, or checking out the freshest new skateboard in the store.
But a few people may gravitate to what we're doing, be inspired to build one of their own, or show us a neat move we could try ourselves. 
Instead of trying to race a Lamborghini, sell out Madison Square Garden, hold a 4-day seminar, or riff a seamless 30-minute monologue, perhaps we can just build our skateboard.
In fact, when the world is marveling at the high production value of Teslas, music festivals, or the newest apparel company, we may even be better off going this way.
Our lack of resources, polish, experience, and expertise gives us space to just make it ours.
And the good news is the internet makes it easier than ever for us to do this, if we're willing to try.
---
Here's my latest skateboard rolling out of the garage [1]. 
It's a short-form podcast called The Tension. 
The Tension is a podcast series on noticing, embracing, and harnessing the tension that shows up in the work we do.
No guests, no glitz, no gimmicks.
Just some observations on the tension we feel and what we may be able to do with it, so we can go out and do better work and get out of our own way.
Click to get notified when the first batch of episodes go live.
[1] Maybe it's not even a skateboard – it's a scooter. Especially as I can't skateboard.