Two Transmitters and a Telephone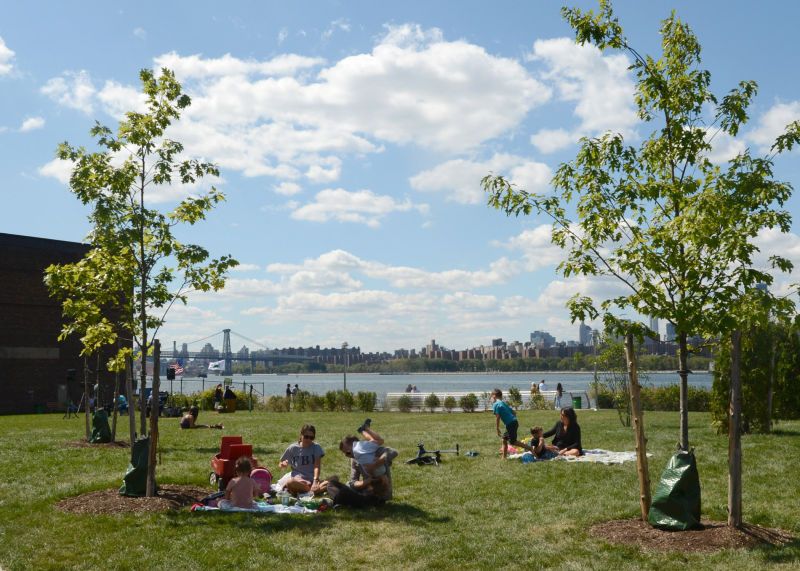 Last hurrah. Baby due anytime now, so I ping a friend to see if he's up for some drinks.
A bit of back and forth on where to meet. He's in Williamsburg, I'm in Fort Greene. I think I suggest something in the middle. He comes back offering Transmitter at 6.
Pretty sure I know the place, it's down near the water. Done deal.
I check the map and yup, there it is, pretty much in the middle of us. The brewery and beer garden in the Navy Garden.
It wasn't hard to find. The big sign outside came up earlier than I thought. Turn a hard left off the bike lane and there's a clutch of people milling around, picking up wristbands for boozing approval. Place seems a little odd - not really his vibe. Polo shirts, athleisure, batchelorette gatherings. But whatever, it's Saturday afternoon and everyone's got their tails up.
Lock up, take a perch outside. Maybe a touch early. Not sure. I still haven't got the watch battery changed. Unzip the bag to consult the phone. Rummage underneath the beers and my notepad.
Nothing.
First time in 4 years. Maybe 8.
Multiple thoughts zag into the brainbox at once, resulting in a weird gormless paralysis.
Stay? Go home? Ask someone to borrow their phone? Any idea what his number is?
No idea.
Call the wife? Err, no.
Give him 15. I lollop to one of the tables outside. Whip out the notebook, day dream a little.
He's very punctual, so 15 feels punchy. The 15 comes and goes. Nothing.
Home it is.
Lug the bike in, nearly take the front door off on the way through. There's the phone. In the kitchen, naturally. The home of the absent mind.
He's texted: "Down by the river".
The penny drops.
That Transmitter, the one we went to before.
I call, explain sheepishly. He's cool. I'm less so.
Time for a travel decision.
It'll be late when home. Bike lights not working, I would have been drinking. Last time was wobbly. Probably a bad idea. Although it is fast…
Train? Forget it. Subway heat, G line unreliable.
Then there's the safe option: Citibike. No need for a lock, and space to stash the bag. And speaking of G, a moment of genius lands: go electric. Now, there's some tension here. No electric bikes on the rack means it's going to be a lot, lot slower on the regular velo.
Committed, I shove the bike into the hallway, ditch the accoutrements and head back out. Inevitably, all the electric bikes are showing solid red lights. Out of service. No go. Regular bicycle it is.
In a bid for efficiency I grab the option with the highest seat setting. Within a minute I discover this hulking beast has been trapped in middle gear. I may as well be carrying 3 weeks of groceries on the front.
Grinding my way back out to the main bike lane, the heat envelops me. I was majestically gliding on my own steed, now I'm suddenly flooding out sweat like a burst hydrant.
The smooth flats of Flushing Ave feel like a Tour de France mountain stage. Williamsburg's north-south cut seems to take forever. My face is flushed, lower back seizing up. At least I'm happily married: this date would be over before it's started.
I contemplate a quick bike switch at a nearby station but sense I'll be doomed if I try. 30 rotten minutes later and I haul the wretched thing into Greenpoint's M street and a well-stocked docking station.
3 docks available, 3 red lights. No bueno. The next nearest spot is another 5 blocks away, and it's now nearly 7. Taking all those numbers into consideration, he's probably gone home already.
By this point I'm embarrassingly sweaty - ruddy faced, panting, and bedraggled. Wearing a black t-shirt was a good option as a gentle sweat concealer, less so when it's raining perspiration. Compound interest in action.
The guys playing basketball give me a look up and down. I think it's almost pity, but the sweat in my eyes prevents me from detecting emotions.
I shove the ungrateful contraption into dock number 1 one last time. It growls with resistance, and somehow, it's home. Up goes the magic green light. I'm free.
Relieved of my 80lb burden I zip him a text: "2 mins".
10 seconds later: "See you in 2 hours". Fair.
Around the corner and my heart sinks. Have I undershot it?
No - a street sign points straight left to Transmitter Park. But not just Transmitter Park - it's WNYC Transmitter Park.
I smile wryly through my clammy exterior.
If I'd done this trip a few months earlier I wouldn't have paid heed.
WYNC is the local radio station I've recently come to love. I started listening when we bought our car a few months previously.
And then I realized.
I probably should have driven.